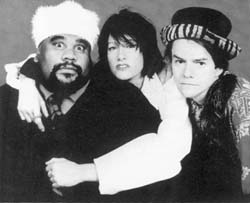 Berlin vibe: The Negro Problem contribute to
new Del-Fi label homage.

Del-Fi label tribute is way cool




Various Artists
Delphonic Sounds Today!
Del-Fi

The success of the 1987 La Bamba soundtrack sparked an interest in the late rocker Ritchie Valens and rekindled the Del-Fi label that issued his hits. After nearly 30 years of dormancy, this L.A. label is feted by an alt-rock, trip-hop, avant-pop lineup that includes the buzz-saw guitar attack of the Brian Jonestown Massacre, Georgia neo-surfers Man or Astroman?, and the twangy supergroup Los Straightjackets, all plumbing the rich Del-Fi vaults for some of highly underrated '60s garage rock and pop. Often the results are captivating, particularly the haunting acoustic-based flower pop of Baby Lemonade, who reinvent Barry White's 1967 hit single "All in the Run of a Day." Sixties biker-flick mavericks Davie Allan & the Arrows sling stinging guitar licks on their cover of Bobby Fuller & the Fantastics' instrumental "Our Favorite Martian." And the Dekes of Hazzard--actually alt-rock guitar slinger Deke Dickerson--lend a psychobilly shiver to "The World's Greatest Sinner," an obscure 1963 B-side penned by a record-store clerk named Frank Zappa. And, of course, Ritchie Valens is represented in the teen-prom-night ballad "Donna," sappily reinterpreted by Powerjive main man Elliot Kendall.
GREG CAHILL
---
Joe Henry
Fuse
Mammoth
If the idea that a '90s indie-pop songwriter should try stylish trip-hop production is no longer special, then Joe Henry can at least say he had that idea years ago. But his new disc, Fuse, is still waiting to be lit. Henry's persona evokes an intersection of Leonard Cohen and Peter Gabriel, where grim, stark, confessional folk balladry meets a modern ambient dance-pop beat. On the plus side, Henry has a hip jazzy chamber music bent; on the down side, he's soft and lethargic. Just as '90s trends had Henry poised to seize the moment of folk-pop hybrids, he comes up shy on song and style.
KARL BYRN
---
Kelly Willis
What I Deserve
Rykodisc
Alt-country journeywoman Kelly Willis has a right to some of the chip that's on her shoulder--after a shoestring career as a critics' favorite with no sales. But she's finally landed on the maverick indie label Rykodisc, where her straightforward country-pop should get some deserved support. What I Deserve is a crisp neo-country study in sincerity, where Willis says all of the right things. What's missing? The dynamic explosions that might otherwise push the alt-country envelope.
K.B.
---
Various Artists
Fish Trees Water Blues
Bullseye
Save the world and groove mightily to boot. J. J. Cale, Ani DiFranco, Keb' Mo', Robert Cray, Sonoma County bluesman Charlie Musselwhite (with Bob Weir & RatDog), John Lee Hooker, Ruth Brown, and Branford Marsalis are among those contributing to this CD benefiting the Earthjustice Legal Defense Fund's campaign to save salmon, ancient forests, and wild rivers. And you get a glorious gospel shot on "I'll Fly Away" from Mavis Staples. Good vibes. Good grooves. Good cause.
G.C.
[ Sonoma County | MetroActive Central | Archives ]