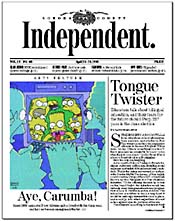 For the Week of
April 23-29, 1998
Cover: Aye, Carumba
Animator Dave Silverman has lived with The Simpsons for nine years--and he ain't complaining.
News: Tongue Twister
Ron Unz wants to silence bilingual education. But can we afford that?
KKKrime: DA rules out hate crime.
The Scoop: How batty can you get?
And the Beetle Goes On ...: A veedub-lover takes the new Beetle on the road to compare what's under the hood with what's behind the hype.
Green Monster: Just when you thought being a vegetarian was safe, E. coli--the dreaded bacteria of the burger world--has been turning up in lettuce.
Climbing Up on Capitol Hill: Check up on the your Congressional Representatives and U.S. Senators--where they stand, how they voted.



Word Play: Talking Pictures takes Lollapalooza poet Hal Sirowitz to the Tourette Syndrome romance flick Niagra, Niagra.
(Mis)Fitting In: Nicholas Philibert's documentary, Every Little Thing, about a theatrical production by patients at a French asylum is a thought-provoking cinematic work.
Something Rotterdam: Oscar-winning Dutch director Mike van Diem talks about Character, his brooding new film about 1920s Rotterdam.
One Very Big Ego: Michael Moore is full of himself in his new documentary, The Big One.



A Tribute Fit for a King: Hip-hop generation honors Martin Luther King Jr. on Living the Dream album.
Spins: Reviews of the latest in African blues and grunge guitars, plus Smokin' Joe Kubek.



Heard It Through the Grapevine: Get to the root of all things wine.



Please don't forget to write! The Sonoma County Independent welcomes letters commenting on our coverage or other topics of local interest. Please keep all letters at 300 words or less (we reserve the right to edit them for length and style) and sign them (unsigned letters will not be published). A local phone number must be included for verification. Postal: Sonoma County Independent Letters, 540 Mendocino Ave., Santa Rosa, CA 95401. Fax: 707/527-1288. Email: [email protected]. Emailers, please include name, city of residence and phone number. Letters printed will list email address unless otherwise specified. Letters to the editor are not currently published in the online version of this paper.