[ MetroActive Central | Archives ]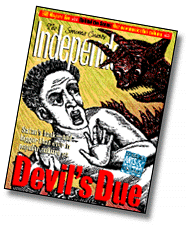 This Week


April 25-May 1, 1996

Cover
Much Ado About the Anti-Christ:
From film to song, pop culture gives
the devil his due and then some.

News
Field of Dreams: Windsor Town Councilmember Sam Salmon
is one of the few who opposed the newly approved General Plan, which could nearly double the community's population by 2015.

Arts & Entertainment
Movies: Reviews and show times for Sonoma County.

Hot Ticket: Sonoma County is experiencing an unprecedented cinema-craze the likes of which would make the Lumière brothers light up like marquees in a power surge.

The Inn Crowd: Cotati's revived Inn of the Beginning welcomes feasters and dancers all over again.

Port of Desire: Once acquired, a taste for the complexities of port becomes a passion.

Man of Letters: The Independent profiles television journalist Bill Moyers.
---
This page was designed and created by the Boulevards team.
Copyright &copy 1996 Metro Publishing and Virtual Valley, Inc.