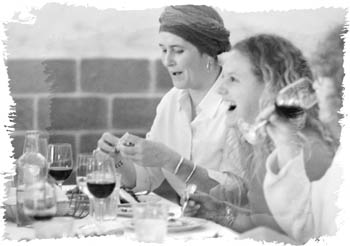 Photograph by Michael Amsler

Touch Wood

Manzanita sizzles in downtown Healdsburg

By Paula Harris

WE ARE transfixed by the goings-on at the next table. A serious-faced man is holding the small flame from his cigarette lighter against the side of a red wine bottle, while a waiter painstakingly pours out a slow stream of the garnet liquid. The other diners at the table look with a concerned and worshipful silence at this decanting ritual.

We stifle the urge to snigger. You may call the impromptu floor show pretentious, but wine is serious stuff here in Manzanita, the chic new restaurant in downtown Healdsburg.

Take, for example, the great and varied wine list with about 70 selections, the willingness of the staff to give complimentary tastings and to offer excellent pairing suggestions, and, not least, the large glass-walled wine cellar in full view next to the bar. Hey, the staff even remembered which wine we had ordered on our first visit (a luscious Marimar Torres pinot noir) when we went back a couple of weeks later. Impressive.

The location of Manzanita, off Healdsburg Plaza, used to house a Chinese restaurant, but now the look is transformed into airy, comfortable avant-garde elegance, with recessed lighting, candles, and a high ceiling in the center of the dining room with rafters painted soft eggshell white. The wall is partly brickwork with a couple of oversize paintings, but the most obvious decorating touch is the racks heaped with manzanita wood, which serve as partitions.

Although there is a wood-fire oven in view (complete with a chef tossing pizza dough into the air), our server tells us the manzanita wood is too hot to burn and that they use almond and oak to heat the ovens that turn out many of the restaurant's specialties.

A word about the service here. At Manzanita they have it down cold--but with a warm touch. It's rare to encounter such thoughtful and completely attentive service without it becoming annoying, but the whole thing is choreographed to the last detail, and, as a diner, it makes you feel great. Can the food live up to the expectations?

The appetizer of fritto misto ($5.75) is superb, a crisp, barely battered mix of sweet Maui onion slices, gorgeous spring garlic, and delicate slices of fennel, as thin as potato chips. Everything as light as air and not a whisper of grease, although on another visit this dish was less successful--heavier, oilier, and seeming to feature scallion in place of the spring garlic.

The baked black mussels ($8.75) are a success. The shellfish are smallish and full of flavor heightened by the rich, saffron-spiked broth and awakened further with slices of spicy chorizo. Some accompanying toasted garlic bread is dipped into the fragrant bowlful and gone in a trice.

A seasonal pizza ($9.95) is studded with cinnamon cap mushrooms (small enoki-style fungi with long stems), caramelized onions, and creamy Crescenza cheese. The crust is light and delicious.

Another choice for vegetarians is the Yukon Gold potato gnocchi ($15.75). The dish comes with asparagus and truffled Pecorina Toscano cheese. It's the fresh taste and crisp bite of young asparagus that's the star here--it's a good complement to the full fluffiness of the gnocchi--and the pleasing cheesy sauce is sweetish but not at all cloying.

The server recommends the grilled rabbit ($19.95) for a light entrée. This is an unusually prepared dish featuring pieces of rabbit breast stuffed with polenta, plus a leg and thigh, all grilled and accompanied by black chanterelle mushrooms, prunes, and an Armagnac sauce. It's very tasty, the one complaint being that the meat is not cooked thoroughly and is too pink and fleshy in the center.

Since we can't wait for a chilly winter night to materialize to try the wood-oven cassoulet ($18.95), we order it now. The dish is rich, rustic, and highly satisfying. It includes a leg of duck confit stuffed with greens, pieces of apple-smoked bacon, and hearty white beans with a bread-crumb top, all served sizzling from the wood fire in a terra cotta earthenware casserole. Excellent.

We are full but cannot pass up dessert. A chocolate pavé with raspberry sauce ($6.95) is as rich as fudge, and the raspberry sauce is intense. But our favorite is the apple-rhubarb crisp ($6.25). It's the epitome of simple comfort food, chunks of sweet stewed fruits under a glorious pastry-crumb topping crowned with a scoop of luscious vanilla ice cream. Mmmm.

You don't have to be a vintner to enjoy Manzanita, but it sure won't hurt if you enjoy good food, wine, and great service.
---
Manzanita
Address: 336 Healdsburg Ave., Healdsburg; 707/433-8111
Hours: Dinner, 5:30 to 10 p.m., Wednesdays-Sundays
Food: Eclectic
Service: Excellent
Ambiance: Avant-garde but comfortable
Price: Moderate to expensive
Wine list: Great selection and helpful recommendations if needed
Overall: 3 1/2 stars (out of 4)
---
[ North Bay | MetroActive Central | Archives ]