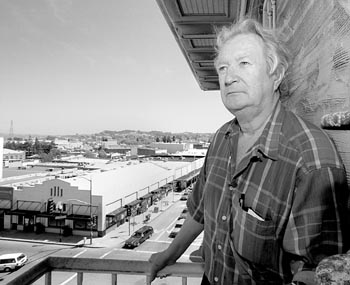 Photograph by Michael Amsler

Rising above: Petaluma poet Eugene Ruggles, co-organizer of a poetry festival to benefit the Phoenix Theatre, says poetry will always survive, whatever the challenges presented by a new age. Others aren't so sure.

Poetry in Motion

Is the art form enjoying a renaissance, or is its new popularity just a lot of hype?

By Paula Harris

WHEN JANICE Mirikitani was 8 years old and growing up on a chicken ranch in Petaluma, she'd often curl up on her grandmother's old rocking chair under a tree in the backyard and scribble down verses. In those days, back in 1958, Mirikitani never dreamed that in the year 2000 she'd be named San Francisco's poet laureate.

To the young Japanese-American girl, poetry was just an empowering tool.

"I needed a vehicle to make myself more visible," she recalls. "And writing poetry on a page made me feel visible."

These days Mirikitani's poems often include rural images of nature--a testament to the riverfront town where she grew up. On Sunday, April 30, the celebrated poet is slated to return to Petaluma to join some of Northern California's best-known poets in a benefit performance for the Phoenix Theatre, the venerable alt-music venue and youth hangout.

Lawrence Ferlinghetti, San Francisco's 1999 poet laureate, is easily the most famous name on the list of those taking the stage. But the festival, which caps off National Poetry Month, will also feature a host of local talent, including Don Emblen, Sonoma County's own poet laureate.

All told, it's one of the biggest poetry events the North Bay will see this year. But is it a sign of bigger things to come? Are young people embracing the art form? Is poetry breaking out of the coffeehouse ghetto and marching into the mainstream?

It turns out even the poets slated to read at the festival don't agree on the answers to those questions.

Mirikitani sees nothing short of a renaissance at work in the art form. In the 1960s and 1970s, poetry provided a rebellious outlet for outrage and self-expression, she says. But the art form languished in the more materialistic and complacent 1980s and early 1990s.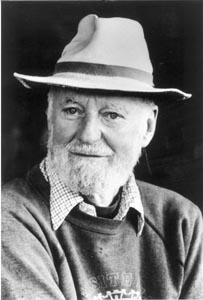 Good words: Lawrence Ferlinghetti will read at the Petaluma festival.

THESE DAYS writing, reading, and sharing poetry--whether in coffeehouses, on the Internet, or in bookstores--is gaining popularity again, particularly among the Generation Y set.
"There's a resurgence," says Mirikitani. "Now there's rap, there are poetry slams that are more crowded than rock concerts, and young people are arming themselves with words. Alcohol, drugs, and violence are ways to escape our pain. Words are the way in which we find true reality and affirm it."
Mirikitani says that teens' attraction to poetry often begins with an interest in song lyrics and music rhythms. "It starts with what speaks to them," she says. "Poetry used to be thought of as inaccessible and square --now it's a cool way to communicate."
The genre's newfound popularity doesn't end there. In 1996, the Academy of American Poets' campaign officially designated April as National Poetry Month. Volunteers gave away copies of poetry books on subways and placed anthologies in hotel rooms next to the Gideon Bibles.
And the word has spread. There are Internet sites, such as Poetry.com, which offers $100 a day to the winner of a contest in which people drag words from a box to create a poem on the screen. Films such as Il Postino, Shakespeare in Love, and Slam have helped popularize the art form. And some poetry books--such as pop singer Jewel's A Night without Armor--have made the bestseller lists.
Dan Jaffe, CEO of Copperfield's Books and Music, which has stores in Santa Rosa, Petaluma, and Sebastopol, agrees that the genre is enjoying a resurgence. "We've given [poetry books] more space in the stores," he says. "So we've seen an increase in sales."
In addition, poetry readings and the raucous rituals known as poetry slams--verbal boxing matches that are noisy enough to drown out the hissing cappuccino machines--are regular events at bookstores and coffeehouses.
But not everyone is enthusiastic about the proliferation of poets and poetry. Some critics bemoan the multitudes of bad poets and bad poems produced by all the hype--pointing a finger at folks like Jewel. Others believe the art form's newfound popularity is just so much hype.
"There's a good deal of talk about poetry these days," muses current Sonoma County Poet Laureate Don Emblen. "I was asked to read at the Sebastopol Apple Blossom Festival recently, but only 20 people showed up. I makes me wonder what all the happy talk about poetry is about. There's a sort of myth in this country. People say they value poetry, but they don't really read it."
According to Emblen, sometimes audiences will turn out for highly publicized readings featuring "big names." But, he adds, "most people writing poetry aren't big names. They're just people trying to figure out a way to say what they see, feel, and hope for."
However, Geri Digiorno, organizer of the Petaluma Poetry Walk event for the past five years, says the local poetry scene is thriving.
"It's very active--I can't believe the turnout for some of the readings, " she says. "There's a real interest."
But Emblen says most regular readings are just vehicles for poets to entertain one another.
"It ends up being an incestuous arrangement where we just read to each other," he says. "The chief value of readings is getting people to become enthusiastic about poetry--but it's often like preaching to the converted."
Longtime Petaluma poet Eugene Ruggles, whose goal is to start a poetry and fiction magazine for local teens and who is helping to organize the upcoming festival, sees a more positive side.
"Poetry is one of our oldest arts--it's as old as religion, perhaps even older. It will never die out," he says. "It's part of the human psyche experience, and it's a testament and a witness to all the tragedy and all the triumphs that surround us."
Meanwhile, San Francisco's newest poet laureate remembers those long-ago days rocking on her grandmother's chair and learning how to find her voice in words--and she agrees.
"I think poetry is so powerful that it will survive any twist or turn," says Mirikitani. "It's the distilled expression of truth. The poet will always call the souls back to where they ought to be."
---
The Poetry Celebration Benefit takes place on Sunday, April 30, at 7 p.m. at the Phoenix Theatre, 201 Washington St., Petaluma. The suggested donation is $5 to $7. For details, call 762-8009.
---
[ Sonoma County | MetroActive Central | Archives ]