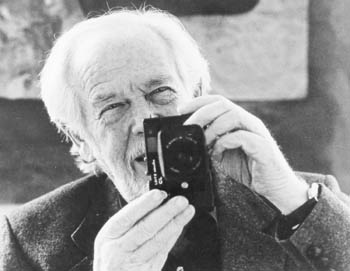 The eyes have it: Film examines life of cinematographer Sven Nykvist.

Tragic Magic

Sven Nykvist film both sad and enlightening

By

HE SAID, "Let there be light," and there was light--and movies were never the same again. Sven Nykvist had set a high new benchmark of artistry and beauty.

While Nykvist's name may be most familiar to trivia nuts, hardcore cineastes, and the actors and directors who actually make movies, one could hardly say that his work is obscure.

Considered one of the greatest cinematographers of all time, the Swedish-born Nykvist enjoyed a behind-the-camera career that spanned five decades, chalking up 123 films to his credit, including Crimes and Misdemeanors, The Unbearable Lightness of Being, The Postman Always Rings Twice, Agnes of God, King of the Gypsies, and Sleepless in Seattle. He won Oscars in 1972 and 1983 for his work on the Ingmar Bergman films Cries and Whispers and Fanny and Alexander, respectively. It was in his early films with Bergman--The Virgin Spring, The Winter Light --that Nykvist first began to forge his reputation as a master of lighting, photographing his scenes with an expressive simplicity that ran counter to the technically slick lighting schemes that is often the norm.

In the opening seconds of the luminous new documentary Light Keeps Me Company--a labor of love by Carl-Gustaf Nykvist, Sven's movie director son--we are treated to a vast scrolling list of the cinematographer's films. At nearly the same moment, we are ushered into a tragic revelation.

Nykvist has progressive aphasia--a rare brain illness that causes words to become mixed up and eventually leads to complete loss of speech--diagnosed in 1997 during the filming of Woody Allen's Celebrity. With his condition rapidly worsening and communication becoming increasingly hard, Nykvist was forced to retire. Celebrity was his last film.

That Nykvist, a reigning master of the visual image, should be taken out of his career owing to a deterioration of his use of words is a sadly ironic plot twist worthy of a Bergman masterpiece. Though Light Keeps Me Company goes to great lengths to avoid become mired in such sadness, a sense of melancholy can't help but pervade the film, turning it into something deeper, more emotional than a mere congratulatory tribute.

There are the expected clips of Nykvist's greatest works, interspersed with interviews from a who's-who roster of stars that includes Bergman and Allen, along with Susan Sarandon, Roman Polanski, Richard Attenborough, Melanie Griffith, and Gena Rowlands. We hear the words of Nykvist, recited by an unnamed actor, reflecting upon his life--he was the son of strict Christian missionaries who forbade the watching of movies--and telling a few colorful stories along the way. And we see Nykvist (beautifully filmed, wrapped in a cocoon of warm light) rooting through a trunk of old videotapes and knickknacks, demonstrating the setup of a camera, receiving a medal from a Swedish film society.

But the Light's best trick is its inclusion of the text, spread in bits throughout the film, of Hermann Hesse's novel Siddhartha, Nykvist's favorite book. The tale of a life lived in search of perfection, Hesse's masterpiece lends a splendid harmony to the story of Nykvist, a remarkable man who spent his life trying to capture light in a bottle. What this movie wonderfully proves is that, more often than not, Sven Nykvist succeeded.
---
'Light Keeps Me Company' makes its Bay Area premiere Friday May 4 and runs through Thursday, May 10, at the Rafael Film Center, 1118 Fourth St., San Rafael. All shows are at 6:45 p.m. 415/454-1222.
---
[ North Bay | MetroActive Central | Archives ]