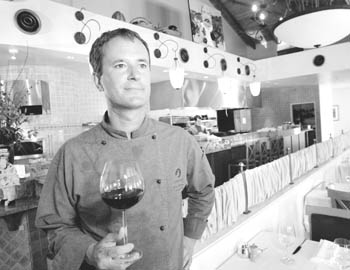 Photograph by Michael Amsler

The grape is king: Executive chef Brian Whitmer is doing some great things at the newly opened Carneros restaurant, offering terrific wines and intriguing dishes.

Wine & Dine

Carneros serves up artisan-inspired fare

By Paula Harris

JUST ACROSS the street from Sonoma's kid's haven on Broadway--AKA Train Town--a grand new resort has sprung up in recent weeks. It's hard to miss the new mission-style Lodge at Sonoma, owned by Renaissance Hotels, with its imposing courtyard complete with oversize fountain and enormous Canary Island date palms.

The facility is going coifed head-to-head with nearby millionaire and celeb hangout the Sonoma Mission Inn and Spa. This newest facility boasts a 182-room hotel, a natural mineral water spa called Raindance, and a restaurant called Carneros.

The airy restaurant is filled with French glass doors and pale neutral tones. It's upscale without being stuffy.

The staff all flit about in semi-shiny copper-colored shirts. Not an entirely popular uniform choice, it seems. "Hey, I like your shirt," we hear one diner gush to her waiter. "Yeah, I'm going to be dealing blackjack after work," he dryly responds. Oh, well, can't win 'em all.

Service is a little hit and miss. Our waiter forgets several items. The service low point comes when our ravenous companion is served his Liberty duck breast with toasted faro and pistachio pilaf with beet sauce (a $20 plate). The promised duck dinner arrives--three measly slices of meat. "Where's the rest of it?" asks our disappointed companion. "It flew away" is the tart comment from our waiter (and not the blackjack guy, either, another fellow).

Hey, maybe the metallic shirts are getting to them.

Other dishes are more successful. An appetizer of wood-fired mussels with caggiano sausage, elephant garlic, and saffron-lobster tomato sauce ($9.50) is delicious, with just a touch of spice from the sausage.

We rave over the seared foie gras ($14), a meltingly rich slab accompanied by sweetish roasted pear, blackberry-zinfandel gastrique, and warm brioche.

A fresh-tasting golden and red beet salad ($9.50), containing fennel, wild greens, and toasted pine nuts, is good--although we think the dish is quite pricy.

Also in the wallet-busting leagues is the wood-oven-roasted whole fish for one with baby artichokes and fingerling potatoes. The menu lists market price, but both times we've asked, the plate is $30 (for one, remember!). This evening they're serving roasted tai snapper, which looks and smells wonderful, but we pass.

The rotisserie chicken ($19) is very succulent and tasty, but, like the duck dish, is on the small side. It's served with comforting crème fraîche potato purée, local baby vegetables, and herb jus.

And a grilled pork chop ($21) is perfectly cooked, arriving with a flavorful potato-chive latke, braised chard, and a little bite of green apple relish.

Carneros (yet another grape/wine varietal/terroir-inspired restaurant name) not surprisingly boasts a comprehensive wine list, with several very good offerings (such as the terrific Mayo Family chardonnay) by the glass.

For dessert, the Tahitian vanilla crème brûlée with fragrant herbs ($7) is creamy and dreamy--and almost the best part are the two little accompanying lemon drop cookies. But the rhubarb-filled turnovers with minted strawberry salad ($7) fare less well because the pastry is too dense and overpowering.

As we leave at the end of the evening, several servers are congregating near the door like a handful of shiny new pennies.

We imagine they're discussing how quickly they can lose the shirts.
---
Carneros at the Lodge
Address: 1325 Broadway, Sonoma; 707/935-6600
Hours: Breakfast, 7 to 11:30 a.m.; lunch, 11:30 a.m. to 2:30 p.m.; and dinner, 5:30 to 10 p.m., daily
Food: Wine country cuisine
Service: Variable
Ambiance: Serene decor, but can be busy
Price: Expensive
Wine list: Expansive selection
Overall: 2 1/2 stars (out of 4)
---
[ North Bay | MetroActive Central | Archives ]