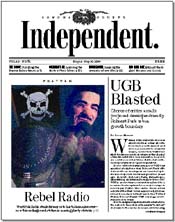 For the Week of
May 14-20, 1998
Cover: Rebel Radio
West Pole Radio steals its way onto Santa Rosa airwaves--now this underground station is causing plenty of static.
News: City Limits
Brouhaha over Rohnert Park urban growth boundary.
The Scoop: Purifying the Beanie Baby stream.
Climbing Up on Capitol Hill: Check up on the your Congressional Representatives and U.S. Senators--where they stand, how they voted.



Bad Hair Day: Icky art that's good for your soul.



Kinda Kinks: Ray Davies acclaimed one-man show rolls into LBC.



Talking Pictures: Author Jeffrey Masson shares a few words on talking birds and the movie Paulie.
Homegrown: SSU professor Jonah Raskin harvests kudos for new pot-growing flick.
Hong Kong Elegy: Chinese Box explores a world that will never be the same. Plus an interview with director Wayne Wang.
Long Riders: The sport exceeds the story in surfing flick In God's Hands. Plus an interview with surf stars Matt George and Matty Liu.
'T.R.A.N.S.I.T.' Glorious: Piet Kroon's 12-minute masterpiece highlights Spike & Mike's Classic Festival of Animation.
All Snap, No Plot: The Spanish Prisoner lies flat on David Mamet's pages.



Orchard's In: Savoring the fruits of their labor.
Heard It Through the Grapevine: Get to the root of all things wine.



Please don't forget to write! The Sonoma County Independent welcomes letters commenting on our coverage or other topics of local interest. Please keep all letters at 300 words or less (we reserve the right to edit them for length and style) and sign them (unsigned letters will not be published). A local phone number must be included for verification. Postal: Sonoma County Independent Letters, 540 Mendocino Ave., Santa Rosa, CA 95401. Fax: 707/527-1288. Email: [email protected]. Emailers, please include name, city of residence and phone number. Letters printed will list email address unless otherwise specified. Letters to the editor are not currently published in the online version of this paper.