[ MetroActive Central | Archives ]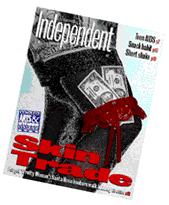 This Week


May 23-29, 1996

Cover
Lonely Avenue: From the whorehouses
of Wikiup to the car dates on Santa Rosa
Avenue, sex, drugs, and despair are a
dead end.

News
Usual Suspects: Petaluma city officials may be running roughshod over the political process, but at least their antics make for great copy.

News Briefs: The prosecution in the Richard Allen Davis murder trial rests its case.

Arts &amp Entertainment

Sonoma This Week

Revisionist History: From the Bard to the Bible, the Reduced Shakespeare Company tweaks with history and literature in their quest for laughs.

Talking Pictures: Theologian Patricia Reilly digs the fem farm in Antonia's Line.

New Timers: Big Sandy and His Fly-Rite Boys bring back the old gold.

Stud Muffins: Snack gurus go for the Gold's, providing fat-free food for muscle men to munch.
---
This page was designed and created by the Boulevards team.
Copyright &copy 1996 Metro Publishing and Virtual Valley, Inc.