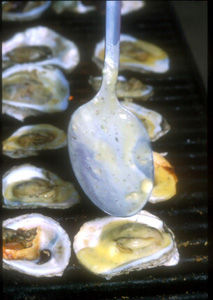 Photograph by Bob Ecker

Triple Way: Charles Diegel's barbecued oysters are cooked three different ways before serving.

Half-Shell Hero

Charles Diegel is Napa's barbecued-oyster king

By Bob Ecker

The most important thing," says Charles Diegel, "is to have a good glove." And with that, using his heavy canvas glove and an old sturdy knife, Diegel expertly shucks a steaming oyster. The juices run out hot and clear, and he lays the oyster shell on the next grill to simmer.

Diegel is known around town as the "barbecued-oyster king," whose unique, three-step cooking process has made his oysters legendary throughout Napa Valley. A familiar face at the Friday night Chef's Market in downtown Napa, which begins this year on Friday, May 28, Diegel is used to customers lining up at the sight and smell of these marvelous mollusks. "The oysters sell themselves," he laughs with a tidy wave of his gloved hand.

Most of the oysters Diegel sells come from Washington state, but any kind can be used. He prefers Pacific Coast and Miyagi oysters, though he didn't even eat oysters himself until a few years ago, when a Samoan friend turned him on to the taste. "We started by cooking them in butter and garlic at first. It was great for people like me who were afraid of oysters." His entire family learned to love them, and he even cooked thousands of oysters for his own wedding. Diegel explains his culinary philosophy: "I love to cook and eat, it's a simple as that."

The Napa Chef's Market brings together many styles of food, but clearly Diegel's stand is a hit with the crowd. "These oysters are amazing, really mouth-watering. I love the pesto," says Tina Brite, who visited the Chef's Market last year from nearby American Canyon. Diegel, along with his wife, Molly, and his father and father-in-law, usually sells over 700 oysters each Friday night. For a private event or gathering, Diegel estimates a dozen oysters per person.

His customers have a number of sauces to choose from, including teriyaki, butter and garlic, sesame soy, a homemade pesto, a barbecue sauce and special hot sauce. Depending on the sauce, Diegel suggests complementing the oysters with a Sauvignon Blanc or hearty Zinfandel. His father, Chuck, also known as the "Mother Shucker," recommends cold beer to help wash down a passel of oysters.

Diegel utilizes a no-nonsense yet tried-and-true method for barbecuing his oysters. He employs three separate grills, each with a separate function. The first pops open the shell, the second is used for simmering the oysters and the third is where the sauces get blended into the oyster. "You can use any barbecue," he says, "but the best bet is propane to control the heat." The three-grill system, Diegel explains, helps keeps oyster shells from getting into the finished product. Indeed, it's fun watching Diegel in action, as he effortlessly places, shucks, steams and sauces his oysters.

Keeping the grills clean is the toughest part of the job, according to Diegel. He's always on the lookout for small pieces of oyster shells that can get into the burners. He also swears that oysters are, indeed, the ocean's aphrodisiac. "It's nature's Viagra," he says with a grin. (He and his wife have five children.)

Diegel is pleased that people enjoy his oysters, and has high hopes for the future. "I'd like to open a little restaurant one of these days, and of course, oysters will be a prominently featured item on the menu."

You can't miss the Diegel's Barbecued Oyster stand at the Chef's Market--it's the one with the healthy line. However, don't worry--the line does move, and the oysters are definitely worth a taste.
---
The Napa Chef's Market is open each Friday evening through August from 4pm to 9pm. First Street and Napa Town Center, downtown Napa. Free. 707.257.0322.
---

Charles Diegel's Three-Step Barbecue Process
1. Take the oysters straight from the cooler and put them directly on the first grill, on high heat. Close the cover. After three to five minutes, remove oysters from the grill, "whether they've popped open or not," Diegel says. Using a strong glove and a knife, open the shells. Diegel uses a stiff, stainless steel knife and has also used bait knives to open the oysters. "Good, cheap knives are great for shucking," he says. Cut the muscle on the oyster to release it from the upper portion of the shell.
2. Put remaining oysters in the bottom half-shell directly on the second grill, on medium heat. The oysters should gently bubble in a combination of seawater and their own juices, steaming slightly. This warming station gets them ready for the last stage. Leave on no more than 10 minutes.
3. This is the sauce stage. Put warm oysters in the half-shell directly on to third grill, on medium heat. Pour sauces over the oysters. When all the oysters have been sauced, close the cover. Cook for approximately five minutes. Remove from heat, serve and eat immediately.
Molly Diegel's Pesto Sauce
basil leaves
1 1/2 c. extra virgin olive oil
10 cloves of fresh garlic, peeled
1/4 c. pine nuts
1/2 c. Parmesan cheese, grated
1 whole stick of softened butter
Begin with a blender full of fresh basil leaves. Add olive oil and blend until well mixed. Next, add garlic and blend. Finally, add the pine nuts, Parmesan cheese and butter, and blend until entire mixture is thick. Pour approximately 1/2 tablespoon of pesto sauce onto each cooked oyster. Grill on medium heat about two minutes, until mixture melts into oyster. Serve immediately and enjoy. This recipe makes enough sauce for about two dozen oysters.
--B.E.
[ North Bay | Metroactive Central | Archives ]