[ MetroActive Central | Archives ]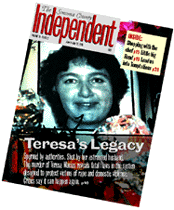 This Week


June 6-12, 1996

Cover
Teresa's Legacy: Critics say the murder
of Maria Teresa Macias reveals basic
problems with the handling of
domestic violence, rape, and
child abuse cases.

News
Standing Tall: Homegrown HMO braces for outside competition.

Arts &amp Entertainment


Common Ground: They may look mellow, but the Little Big Band plays with steely intensity.

Original Monsta: Draco the dragon flames it old-school style in Dragonheart.

Talking Pictures: 'Sylvia' cartoonist Nicole Hollander finds I Shot Andy Warhol a disturbing take on female rage.

Mart du Jour: A Santa Rosa chef finds gourmet goods in an ordinary supermarket.
---
This page was designed and created by the Boulevards team.
Copyright &copy 1996 Metro Publishing and Virtual Valley, Inc.