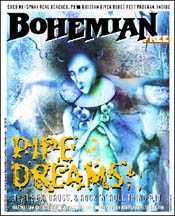 For the Week of
June 7-13, 2001
Cover: Pipe Dreams
A politically incorrect paean to sex, drugs, and rock 'n' roll.
One Nation Oversexed: What's happening to a nation bent on titillation?
The Initiate: A first-time acid trip leads to jail, madness, and a career.
Feed Your Head: Jefferson Starship reprises a classic album.
News: Building Bridges
A personal view of a successful campaign to stop forced pesticide spraying.



Kenneth Cleaver: The Consumer Correspondent wants a catalogue for normal people.
Open Mic: Randy & Me.
Geek Girl: Of Apache hackers and wanky crackers.



¡Ay Caramba!: Girl and the Gaucho dishes up luscious Latino fare.
Heard It Through the Grapevine: Get to the root of all things wine.



All Mine: 'The Claim' delivers an emotionally stillborn morality tale.



Fabric of Our Lives: R.E.M.'s sound has permeated our sonic landscapes.
Lost and Found: Trance-techno collective Lost at Last hits the major league.
Star-Crossed Lovers: New anthologies showcase country greats.
SF Club Guide: Disco divas, hip-hop connoisseurs and salsa suaves to flannel-clad pinball players, jazz luminaries and more from the City by the Bay.
Russian River Blues Festival: Ticket information and news about the Guerneville celebration.
Health & Harmony Festival: Belly dancing, environmental expo, patchouli oil, and music, music, music--get the jump on the Health & Harmony Festival, the North Bay's biggest counterculture shindig.



Burning Brush: Horst Trave explores mysteries of color and line.



Dog Daze: 'Poona the Fuckdog' opens big pink box of weirdness.
'Art' Smart: Provocative play delivers thoughtful good time.



Please don't forget to write! The Northern California Bohemian welcomes letters commenting on our coverage or other topics of local interest. Please keep all letters at 300 words or less (we reserve the right to edit them for length and style) and sign them (unsigned letters will not be published). A local phone number must be included for verification. Postal: Northern California Bohemian Letters, 50 Mark West Springs Road, Santa Rosa, CA 95403. Fax: 707/521-1966. Email: [email protected]ohemian.com. Emailers, please include name, city of residence and phone number. Letters printed will list email address unless otherwise specified. Letters to the editor are not currently published in the online version of this paper.