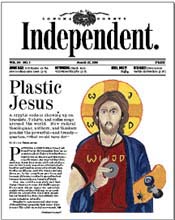 For the Week of
June 11-17, 1998
Cover: Plastic Jesus
Mining the morality of the Christian youth movement.
News: Net-Working
College grads turn to the Internet for job searching.
The Scoop: The Conqueror and other bombs.
Bitter Pill: The French abortion pill, RU486, is being clandestinely distributed in the Bay Area--so clandestinely that most people don't even know about it.
Climbing Up on Capitol Hill: Check up on the your Congressional Representatives and U.S. Senators--where they stand, how they voted.



Suddenly Summer: Our guide to all of the season's hottest events.



Funkin' Groovin': The eclectic jazz beats of Medeski, Martin & Wood.
Creatures of Habit: Candy From a Stranger album obscures Soul Asylum's vision.



Sinking Feeling: Talking Pictures' own David Templeton attempts to interview a James Cameron biographer without ever mentioning that humongous hit movie, er, what's its name?
Trouble on Tour: The Ann Arbor Film Festival rolls into the North Bay.



Figaro, Figaro: Cinnabar Theater courts classic Italian opera.
Leap of Faith: Is the Mountain Play in Glen Ellen to stay?



Porcine Palace: Pigging out at Charcuterie restaurant.
Heard It Through the Grapevine: Get to the root of all things wine.



Beta Males: A new generation of comic-book artists salutes slackerdom.
Wilde Kingdom: In a trio of new plays and films, Oscar Wilde exerts his influence on modern culture.



Please don't forget to write! The Sonoma County Independent welcomes letters commenting on our coverage or other topics of local interest. Please keep all letters at 300 words or less (we reserve the right to edit them for length and style) and sign them (unsigned letters will not be published). A local phone number must be included for verification. Postal: Sonoma County Independent Letters, 540 Mendocino Ave., Santa Rosa, CA 95401. Fax: 707/527-1288. Email: [email protected]. Emailers, please include name, city of residence and phone number. Letters printed will list email address unless otherwise specified. Letters to the editor are not currently published in the online version of this paper.