[ MetroActive Central | Archives ]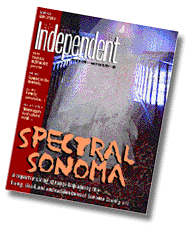 This Week


June 13-19, 1996

Cover
Spectral Sonoma: One reporter's
long, strange trip among the
formerly living residents
of Sonoma County.

News
Taking It to the Streets: Sonoma's
homeless and their supporters camp out at the county Administration Building.

Dream Weavers: Circuit Rider Productions helps local youths find personal and social skills through a variety of often environmentally conscious projects.

Arts & Entertainment


Movies

Talking Pictures: Cowboys ride the wild Twister.

Music

Piano Man: Composer David Conte dreams of creating a trilogy of operas, beginning with The Dreamers, that celebrate the California experience.

Menu

Hard to Beet: Locals reap the benefits of fresh produce at Left Field Farms.
---
This page was designed and created by the Boulevards team.
Copyright &copy 1996 Metro Publishing and Virtual Valley, Inc.