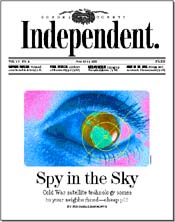 For the Week of
June 18-24, 1998
Cover: Snoopy Satellites
Cold War satellite technology has gone into the private sector, opening the door for private citizens to spy on the earth. And that means your backyard barbecue, too.
News: Future Stock
Toward building a sustainable future.
The Scoop: Another modest nutritional proposal.
Climbing Up on Capitol Hill: Check up on the your Congressional Representatives and U.S. Senators--where they stand, how they voted.



Suddenly Summer: Our guide to all of the season's hottest events.



Radical Chic: Utah Phillips sings out for a fallen folkie.
Spins: New CDs spotlight local musicians.
Audiofile: Reviews of the latest CDs by the Moody Blues, Critical Mass and Izzy Stradlin.
What's in a Band Name: The upgrade is minimal on Garbage's Version 2.0.
Night and the Music: Why jazz drummer Tony Reedus has everyone talking.



Beatty and Switch: All things to all factions, Warren Beatty's Bulworth is the Billy Jack of the '90s, a populist fantasy that charts a Venn diagram of discontent from left to right.
'X' Marks the Spot: The truth is out there--somewhere.
A Modern Kiev Man: A Ukrainian action thriller--really.



Bard on the Fringe: Shakespeare Fest gets edgy.



Mellow Merlot: Sizing up the aging games.
Heard It Through the Grapevine: Get to the root of all things wine.



What a Bitch: Post-feminist author Elizabeth Wurtzel overreaches in Bitch.



Please don't forget to write! The Sonoma County Independent welcomes letters commenting on our coverage or other topics of local interest. Please keep all letters at 300 words or less (we reserve the right to edit them for length and style) and sign them (unsigned letters will not be published). A local phone number must be included for verification. Postal: Sonoma County Independent Letters, 540 Mendocino Ave., Santa Rosa, CA 95401. Fax: 707/527-1288. Email: [email protected]. Emailers, please include name, city of residence and phone number. Letters printed will list email address unless otherwise specified. Letters to the editor are not currently published in the online version of this paper.