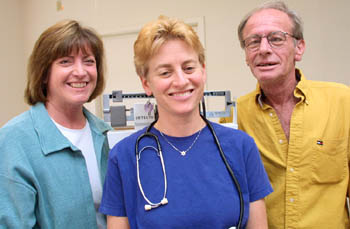 Photograph by Michael Amsler

To your health: Pharmacist Susan Wilmes, left, clinic founder Robin Lowitz, and director of public relations Archie Lewinstein

Health Matters

Jewish Community Free Clinic set to open in Cotati

By Paula Harris

PERCHED on a tabletop, her legs swinging, Robin Lowitz fingers the discreet Star of David glinting at her throat, as, lost in thought for a moment, she ponders her reasons for shouldering this project. This petite woman with the short blond haircut and bright grin first brings to mind an adolescent Mary Lou Retton, rather than a family practice doctor and founder of a new free medical clinic.

But of course looks can be, and mostly are, deceiving.

Since standing up in front of the congregation in her synagogue last August to reveal her longtime dream of assisting the working poor find access to affordable health care and asking for help, Lowitz has been inundated with support to make the volunteer health facility a reality. The nonprofit Jewish Community Free Clinic of Sonoma County is set to open this summer in Cotati.

The organization's mission is to offer free medical care based on the family practice model and to serve anyone in need--indigent and working poor, regardless of ethnicity, race, or religion. The clinic seeks to locally address the inequities in the current health system, which consigns the poor to little or no health care.

"I happen to believe health care is a right, not a privilege," avers Lowitz, her gaze level. "In a country as wealthy as this with so many resources, it's a travesty that people should go without it."

The doctor adds that the situation is particularly dire in Sonoma County. "There's a perception that people who work in society can make it today, but that's not true in this area. In Sonoma County, many formerly insured people no longer are covered due to a convergence of circumstances--people are being forced to choose between buying food and paying energy bills or getting health care," she continues, adding that those most at risk are those in the service industry and North Bay farm workers.

Lowitz, 40, a west Sonoma County resident, began her career immersed in the community-oriented medical facilities of Berkeley and the San Francisco Free Clinic. After volunteering in local free clinics sponsored by churches, Lowitz began to question her own community's lack of involvement. "It just reinforced my questions," she says. "There were a lot of Jews volunteering in clinics, such as the one sponsored by Catholic Charities, and I wondered why my own community wasn't organizing."

While the local Jewish community has been involved in civil rights issues such as the Stop the Hate Project and homelessness, the focus on community outreach involving heath care is a whole new direction. "I had an inkling that the Jewish community in general is very liberal-minded as far as social issues go," Lowitz says, "and I had a sense that were I to throw out the idea, then people in the Jewish community would come out of the woodwork to help."

SHE WAS RIGHT, and the support has extended well beyond the Jewish community. The Lions Club of Cotati has allowed the use of its building for the clinic site. The Lions Club is down to six members, says Lowitz, but is still used, plus it's home to various community groups, such as the local sewing club. The new clinic will slot in among these activities.

In addition, local companies and individuals have donated time and materials to revamp the modest 50-year-old building, located in the Rancho Adobe Fire Station parking lot; and community volunteers have transformed the place by taping sheetrock on the walls, installing insulation, and painting inside and out.

A couple of doctors, a nurse, and others have donated equipment, including a much-needed heater for use in the children's examination room. In addition to the pediatric room, the clinic will house an adult examination room and a nurse's triage station. There are plans to enhance the lobby­waiting room with educational videos, workshops, storytelling, and toys. To promote literacy, says Lowitz, each child will be given a book to take home.

A volunteer staff of doctors, nurses, social workers, nutritionists, and a pharmacist have agreed to donate their time and services, and some of the medical supplies have already been donated for the clinic's use.

Lowitz says the clinic will open one evening each week and see patients on a drop-in basis. Organizers hope to raise $10,000 to provide funds for the clinic's first year expenses and have planned three fundraising events.

A classical-music concert held June 2, and featuring members of the Cotati Philharmonic and the Rohnert Park Community Band, drew some 350 audience members, marvels Lowitz. A rock concert to be held July 1 at the newly opened Last Day Saloon in Santa Rosa and organized by the local medical-aid group Musicians Helping Musicians will feature the Kay Irvine Band, Gator Beat, Fact or Fiction, and other artists and special guests. And an upcoming Latino concert still in the planning stages will feature an afternoon of Latino music and various activities.

"We're trying to get the people that the clinic will be serving involved," explains volunteer Archie Lewinstein, "such as farm workers and musicians." Frank Hayhurst of Zone Music, who is organizing the benefit concerts, agrees. "Musicians and artists are edge-dwellers in our corporate culture and are typically uninsured or underinsured," he explains. "This is a way to be proactive."

Lowitz says more than half of the clinic's board members aren't affiliated with any religious organizations, and many volunteers are nonpracticing Jews.

"[The project] is drawing people from the Jewish community who aren't involved in the synagogue and who feel alienated from Judaism, but see this as a way to express their cultural background and to do it outside an organized-religious framework," she explains. "The issue of health care strikes a chord in a lot of senses.

"I think people are compassionate at the core, and this gives them a chance to give back."
---
A rock concert to benefit the clinic will be held Sunday, July 1, from 7 to 11 p.m. at the Last Day Saloon, 120 Fifth St., Santa Rosa. Tickets are $10. Call 707/664-1213, ext. 19.
---
[ North Bay | MetroActive Central | Archives ]