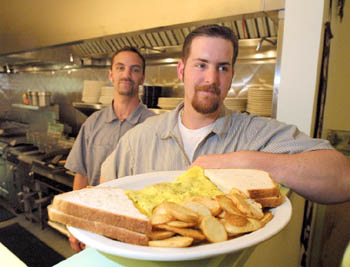 Photograph by Michael Amsler

Eggs on plate: Kitchen manager , Brian Hall right, and owner/chef Todd Heald are serving up breakfasts that are giving customers something to cluck about.

It's No Yoke

Eggs & Co. serves up super breakfast

By Paula Harris

"FOR YOUR HEALTH," states the enormous menu at Eggs & Company, a cheery new breakfast/lunch room in Santa Rosa's St. Francis Shopping Center, "we fry in 100 percent vegetable corn and canola oil blend, Supreme Fry-On, very low in saturated fats and no cholesterol." How nutritiously nurturing, my companion and I agree, as we greedily murder butter-smeared pancakes, fluffy omelets, cheese 'n' mayo­filled sandwiches, lumberjack-sized coconut cream pie, and hot chocolate crowned with whipped cream. We have to smile.

Eggs & Company, owned and operated business by the family that runs Betty's Fish & Chips five minutes down Highway 12, seems to have a happy staff sincere in their efforts to please the hungry clients that pack the place on weekends. "It is our goal to serve the very best of everything and offer the cleanest, cutest, and yummiest breakfast/ lunch house in the area with efficient and friendly service," continues the smiley-toned, chicken-decorated welcome note on the menu.

The place certainly is clean--and cute. Bright and cheerful and decorated with homey country-style knickknacks. You know the type of things: ceramic hens, a wreath of robins' eggs, farmyard scene art, dried flowers, and cookie jars.

Although the eggshell-white walls, high ceiling, and plain tables and chairs are a bit stark, the total effect manages to be warm and inviting. A glass case at the entrance holds fresh-baked pies and muffins. The amiable staff rushes about in yellow shirts and aprons printed with (what else?) chickens. And the patrons? Well, they run the gamut: babies in strollers, silver-haired couples, surly adolescents, and freckle-faced kids. Seems everyone likes breakfast. And Eggs & Co. serves up a good one.

The biggest crowd-pleaser is the selection of omelets, all with snappy names like Chicky's, Steve's, or Corso's. Some are downright decadent. Take the Big Mike Omelet ($8.95), a humongous creation crammed with ham, bacon, linguiça, hamburger, sausage, crab, shrimp, and Swiss cheese.

Can you say Alka Seltzer?

We build our own, very modest, omelet filled with spinach and tomato ($5.95 plain, and an additional $1 or $1.25 for fillings). The omelets are made here with free-range eggs and are individually created on a grill that apparently renders a fluffier end product. This is one great egg envelope. It's large herb-sprinkled rectangle encasing the fresh veggies. Neither the eggs nor the filling is runny--and, yes, it is indeed fluffy.

The generous portion comes with good toast (there's a variety of breads, and the table holds three types of jam as well as honey) and the greatest cottage fries--these are hot, crisp golden discs, completely grease-free, with a pleasing floury flavor.

The pancake and waffle batters are made from scratch, and a short stack of two plain pancakes ($4.75) is another tasty choice, steamy and light and served with warm maple syrup and slightly salted butter on the side.

Other breakfast choices are Texas French toast dipped in egg custard ($4.95/four halves); steak and two eggs ($10.95), pigs in a blanket ($6.95), and eggs Benedict--served on Sundays only--($8.95). Breakfast is served all day.

While the orange juice ($1.50/$2.25) seems less than freshly squeezed and is bitter, the cup of hot chocolate ($1.50) is luscious and topped with cream. With this emphasis on dairy, it's a pity they don't have milk shakes.

For dessert ("Stressed spelled backwards is Desserts," our cheery menu informs us) we're eager to try the house specialty--homemade raspberry-pear pie--but alas none remains today, so we select a misshapen coconut cream pie ($3.95) that tastes pretty good, but looks like a prop from clown school.

Eggs & Co. is worth a visit, but my advice here is to savor the breakfast and skip the lunch.
---
Eggs & Company
Address: 108 Calistoga Road, Santa Rosa; 707/ 538-7937.
Hours: Breakfast and lunch, Sunday, 7 a.m. to 3 p.m.; Tuesday-Saturday, 6 a.m. to 3 p.m.
Food: Breakfasts, sandwiches, burgers
Service: Friendly and efficient
Ambiance: Cute and homey, crowded at weekends
Price: Inexpensive
Wine list: House wine and champagne by the glass
Overall: 3-star breakfast; 2-star lunch (out of 4 stars)
---
[ North Bay | MetroActive Central | Archives ]