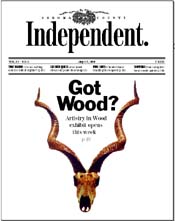 For the Week of
July 1-7, 1999
Cover: Got Wood?
'Artistry in Wood' exhibit shows off Sonoma County's woodworking skill.
News: SWAT Nation
In the post-Columbine hysteria, even the tiny town of Windsor has voted to arm its police with assault weapons. Where's it all going to lead?
Working for a Living: The local living-wage movement flexes its muscle.
Get Rich Quick!: Or at least clean all that unwanted junk out of your closets.
Understanding Gun Violence: Join Together Online, a project of the Boston University of Public Health, provides community resources for those trying to make sense out school shootings.
Up to the Task?: See how your kids' school did in the state Standardized Testing and Reporting program.
Climbing Up on Capitol Hill: Check up on the your Congressional Representatives and U.S. Senators--where they stand, how they voted.



Wine Lines: Chenin blanc finally gets some respect.
Flat Out: Flatbreads are winning new fans.
Heard It Through the Grapevine: Get to the root of all things wine.



Dark Side: Director Spike Lee explores 'Summer of Sam.'
Kenny Unchained: The twisted kids of South Park hit the big screen in 'Bigger, Longer & Uncut.'
Hollywood & Vine: Disney soars on animation, flops on music in new 'Tarzan' adventure.
Moore Isn't Less: 'An Ideal Husband' isn't an ideal movie--but, hey, it does have Julianne Moore.



Wired for Sound: Folk waif Kerry Walker tunes into electronica.
Viva! La Women: Lilith Fair returns with most eclectic roster ever.
Brave New Girls: The Donnas shake off the stigma of being young and cute and female in the world of rock & roll.
On the Road Again: Pavement's new 'Terror Twilight,' is far more coherent than its recent albums.



Natural Born Killer: 'The Pathology of Lies' has a novel take on the cutthroat world of publishing.
Book Picks: Reviews of the latest books by Ariel Dorfman and Marci Blackman.



Please don't forget to write! The Sonoma County Independent welcomes letters commenting on our coverage or other topics of local interest. Please keep all letters at 300 words or less (we reserve the right to edit them for length and style) and sign them (unsigned letters will not be published). A local phone number must be included for verification. Postal: Sonoma County Independent Letters, 540 Mendocino Ave., Santa Rosa, CA 95401. Fax: 707/527-1288. Email: [email protected]. Emailers, please include name, city of residence and phone number. Letters printed will list email address unless otherwise specified. Letters to the editor are not currently published in the online version of this paper.