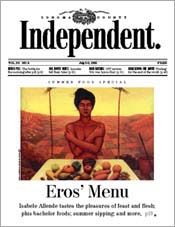 For the Week of
July 2-8, 1998
Cover: Eros' Menu
Isabel Allende tastes the pleasures of feast and flesh.
Male Fridge Oddity: The anthropology of bachelor culinary traditions.
News: Jailhouse Blues
New allegations of abuse surface at Sonoma County Jail.
Bitter Pill: How the Christian right is keeping you from using RU486.
Climbing Up on Capitol Hill: Check up on the your Congressional Representatives and U.S. Senators--where they stand, how they voted.



Suddenly Summer: Our guide to all of the season's hottest events.



Squashed Hopes: The Smashing Pumpkins' Adore CD doesn't make the cut for Gina Arnold; Jeff Buckley's posthumous release includes more unfinished songs than he would have wanted anyone to hear.
Audiofile: Reviews of the latest CDs by Trumystic Sound System, Black Eyed Peas and Randy Travis.



Talking Pictures: David Templeton has an online discussion--with author Patricia Lynn Reilly--about Disney's wonderful new animated adventure, Mulan.
Disastrous Flick: Armegeddon lands like a speeding comet. Can the end be far away?



Hair Today: Michael Fontaine revives a classic '60s musical.
Mountain High: Hello Dolly! is a hit in Glen Ellen production.



I.D. Ideas: Walter Anderson scouts the many manifestations of modern selfhood in The Future of the Self: Inventing the Post-Modern Person.



Heard It Through the Grapevine: Get to the root of all things wine.



Please don't forget to write! The Sonoma County Independent welcomes letters commenting on our coverage or other topics of local interest. Please keep all letters at 300 words or less (we reserve the right to edit them for length and style) and sign them (unsigned letters will not be published). A local phone number must be included for verification. Postal: Sonoma County Independent Letters, 540 Mendocino Ave., Santa Rosa, CA 95401. Fax: 707/527-1288. Email: [email protected]. Emailers, please include name, city of residence and phone number. Letters printed will list email address unless otherwise specified. Letters to the editor are not currently published in the online version of this paper.