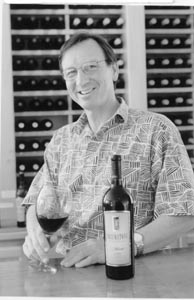 Photograph by Michael Amsler

Groundbreaking: Winemaker Dennis Hill--blending quality and mass production.


Mellow Merlot

Blackstone Winery specializes in a new California classic

By Bob Johnson

IF YOU WERE TO WALK into the lounge of a fine restaurant, pull up a bar stool, and ask for a glass of merlot, chances are pretty good that the juice splashed in your glass would be from Blackstone Winery. The Blackstone winemaking facility dominates downtown Graton, and is situated a few quick strides across Graton Road from the winery's tasting room. Blackstone's flagship wine is its California-designated merlot, but unlike the signature bottlings of other wineries, Blackstone merlot is made in huge quantities.

From the 1997 vintage, some 200,000 cases--that's 2.4 million bottles--were produced. In 1998, that number swelled to 270,000 cases. And for 1999, it's projected that Blackstone's case production of "California" merlot will easily surpass 300,000.

The man charged with overseeing Blackstone's winemaking is Dennis Hill, who broke into the business a quarter-century ago, working for a much less ambitious concern: Seghesio Winery.

Next came a stint at Alexander Valley Vineyards, then a tour of Europe, followed by more winemaking at de Lorimier Winery and then Mill Creek Winery. Three years after brothers Derek and Courtney Benham founded Blackstone, they persuaded Hill to make what amounted to a career change: from hands-on artisan winemaking to overseeing the production of wine for the masses. That was in 1993.

Hill makes no apologies for his present station in life.

"Whether you're talking about 250 cases or 250,000, the same basic winemaking skills are involved," he says. "Rather than working with a single vineyard or a specific appellation, my job is to draw upon numerous fruit sources and work toward creating consistent aromas and flavors from vintage to vintage.

"We buy grapes, we have wine contracts with other wineries, and we also tap the bulk market somewhat," Hill explains. "Since 1997, we've focused more on buying grapes. It's not always easy to get the flavors and aromas we're looking for, but since we can access so many sources, we're able to maintain an identifiable style."

Tasting Notes: Reviews of three local merlot bottlings.

HILL SAYS Blackstone buys grapes from some 25 vineyards in Napa Valley alone. "Most of the fruit is from the southern part of Napa, where it's relatively cool and merlot does really well," he says. A good chunk of Blackstone's Sonoma County fruit is sourced from the Alexander Valley, which Hill says provides "depth and richness to the overall blend." Russian River Valley fruit, which Hill says is "more elegant, with a lot of high notes," also is utilized.
A limited amount of Sonoma County fruit was used for the 1998 bottling. More will find its way into the '99 blend.
"We also use grapes from Mendocino, Santa Cruz, and the Central Coast," he adds. "And in the future, we may buy some grapes from Lake County. We've identified growers who have nice developments at the higher elevations. I think we'll be able to produce some wines with more structure, color, and fruit than have typified Lake County in the past."
What is Hill's goal each year when he begins working on the Blackstone merlot blend? "Blackstone is a wine that's made to be consumed within the first year or two of bottling," he says. "We're trying to make a wine that's respected for its complexity, appeals to a wide range of people, and is versatile with many foods. We want it to be soft and very drinkable."
What does Hill mean by "soft"?
"The primary focus is on bright, forward fruit," he explains. "We keep the oak influence to a minimum; we want it to add roundness, but not overpower the fruit."
After all of the individual vineyard lots have been assessed and the final blend assembled, Hill fines the wine with egg whites "to eliminate the more angular tannins." That process also contributes to the wine's softness.
Does Hill get as much satisfaction out of producing a mass-market wine as he did out of crafting much more limited quantities at Seghesio, Alexander Valley, de Lorimier, and Mill Creek?
"Maybe more," he claims.
Really?
"Really. Take single-vineyard wines. Yes, they can be fun to make because they can express the unique characteristics of a vineyard. But that's also limiting, to some degree. There's only so much you can do as a winemaker to make the wine better.
"With the blending we do here, it's much more challenging to achieve the aroma and flavor profile we're looking for because every vintage is a little bit different. We have so many sources of fruit that the right blend is always there--it's just a matter of finding it, and that can be like putting a puzzle together."
So is bigger better?
"I wouldn't say it's better, necessarily," Hill says. "Different? Yes. Better? No. Worse? No. Just different. I think what it shows is that you can make very good wines regardless of quantity. What you hear so many winemakers say is true: it all begins with the fruit."
And in the case of Blackstone Winery, it ends with an always dependable, and affordable, glass of merlot.
[ Sonoma County | MetroActive Central | Archives ]