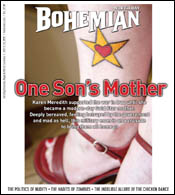 For the Week of
July 6-12, 2005
Cover Story: One Son's Mother:
Karen Meredith supported the war in Iraq until she became a modern-day Gold Star mother. Deeply bereaved, feeling betrayed by the goverment and mad as hell, mom is on a crusade to bring them all home.
Open Mic: Paradise Lost.
Briefs: Narcs for Needles.



Call of the Wild: Sonoma County nudists seek public place to bare it all.
Rev: Monster Truck: The do's and don'ts of renting a big one.
Tech Talk: No Roads For You: On dismantling free WiFi and other serious deliriums.



Critic's Picks: A guide to the week's best arts, theater and music events.



Dead 'n' Dumb: Are the undead all brawn and no brain?
The Mr. T. Experience: 'The Sopranos: The Complete Fifth Season': don't fuggetaboutit.



Don't Think Twice: The Waifs are one trio worth the wait.
Land of 1,000 Dances: The inside story of wedding DJs.



Soul Food: Considering the heart of the family, straight from the Eastern reaches of the Mediterranean.
Swirl 'n' Spit: MacMurray Ranch.
News of the Food: What's for Dinner?
First Bite: Flavor.



Please don't forget to write! The North Bay Bohemian welcomes letters commenting on our coverage or other topics of local interest. Please keep all letters at 300 words or less (we reserve the right to edit them for length and style) and sign them (unsigned letters will not be published). A local phone number must be included for verification. Postal: North Bay Bohemian Letters, 216 E Street, Santa Rosa, CA 95404. Fax: 707/527-1288. . Emailers, please include name, city of residence and phone number. Letters printed will list email address unless otherwise specified. Letters to the editor are not currently published in the online version of this paper.