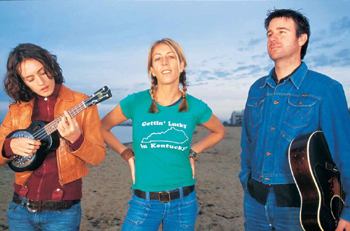 Just Plain Folk: The Waifs are Australia's triple answer to Dylan.

Don't Think Twice

The Waifs are one trio worth the wait

By Greg Cahill

Honing their chops on Bob Dylan covers a decade ago has paid off for the Waifs, an Australian folk-rock band that can sound upbeat even when they're crooning about heartache. In fact, the Waifs so impressed Dylan when they supported him on his 2003 tour of Oz that the troubadour invited them to join him that year at the Newport Folk Festival.

"I'm not the sort of personality that gets hugely seduced by the whole star thing," Waifs guitarist Josh Cunningham told the Sydney Morning Herald. "But doing those shows and getting the opportunity to meet him is a highlight of my life both as a musician and a person. He's probably the main influence for most people who play the music that we do. As a teenager, I got right into him--not only the music but the words.

"I guess being in Australia, so far away from where he is, I didn't even think I'd get the chance to see him play live, let alone open up for him. It's just been an extraordinary experience for us."

Since then, the Waifs have amassed a considerable catalogue of originals, but the group--composed of Cunningham and sisters Donna and Vikki Simpson--pay homage to Dylan on their recently release two-CD live retrospective A Brief History . . . the Waifs (Jarrah/Compass) with a rollicking bluegrass-tinged version of "Don't Think Twice, It's Alright."

The album was released on the group's own label, the same one that has enjoyed considerable success of late with John Butler's soulful roots music.

Waifs fans won't be disappointed by A Brief History since the album, recorded in and around their home turf of Sydney, Melbourne and Canberra captures all the good-time vibes that mark the group's popular live shows. The uninitiated will find a set of songs that feel as comfortable as a well-worn pair of boots, the kind that might grace the feet of a wandering troubadour--or three.

Listening to the song "Lies," comparisons to Michelle Shocked are inevitable, thanks to Vikki's clear vocals, but the song also reveals the extent to which these seasoned wayfarers have absorbed influences from around the world: the push-pull rhythms and finger-style guitar of South Africa is infused with a healthy dose of jangling folk-rock.

Expect a Dylan cover or two, but appreciate the fact that the Waifs are enjoying an unexpected amount of success in the U.S. for a band that started out harmonizing modestly in the cafes and bars of Melbourne.

"Being embraced by more of a mainstream music audience has been fantastic," Cunningham told the Sydney Herald. "It's also been a bit surreal, because a lot of the success and a lot of the growth actually happened while we were out of the country.

"It wasn't that we didn't believe it, but we just weren't here to experience it."
---
The Waifs bring their road show to the Mystic Theatre on Tuesday, July 12. Oregon singer-songwriter Ben Weaver opens the show. 8pm. $22. 23 Petaluma Blvd. N., Petaluma. 707.765.2121.
---

Adventures in Clubland
Jamaican singer Prezident Brown chants down Babylon on July 15 at 19 Broadway in Fairfax, a show that also features the South African reggae act Rasta Messa. . . . Graham Parker--consummate bohemian and '70s pop and folk-rock star--performs July 26 at the Sweetwater Saloon in Mill Valley (if you're real lucky, he'll read Kerouac). . . . New Orleans funk piano wizard Jon Cleary swings into that venerable Marin venue two nights later. . . . Dancehall reggae heavyweight Tony Rebel headlines a steamy roots-rockin' lineup August 4 at the Last Day Saloon in Santa Rosa. . . . Geno Delafose and French Rockin' Boogie pump up the Napa Valley Opera House on Aug. 4.
--G.C.
[ North Bay | Metroactive Central | Archives ]