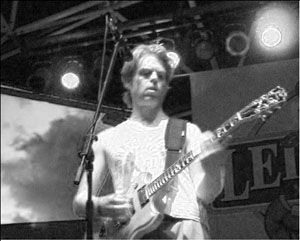 Channeling the Dead: Time in a bottle--guitarist Michael 'Jerry' Hazdra

Dead Again

Dark Star resurrect Grateful Dead

By Scott Cooper

THE DARK Star Orchestra is a cover band that takes requests. But unlike cover bands that keep you entertained while you drown your sorrows at the neighborhood bar, this Chicago outfit covers only the Grateful Dead and takes requests only for specific shows, not specific songs.

"We re-create Grateful Dead shows in their entirety," says Dark Star Orchestra keyboardist Scott Larned, "which means we take a set list from a given day, and we perform that exact set list song for song, and we shoot for sounding like the band did in that particular era."

The Dark Star Orchestra--which performs this week at the Mystic Theatre in Petaluma--waits until after the final encore to tell the audience which show the group re-created that night, a choice that has differed over of the course of the band's three-year, 500-plus performance career.

"That was part of the excitement at the original show," says Larned, who is responsible for picking the particular show. "We see people that bring [the Grateful Dead reference encyclopedia] Deadbase to the show, and by the third song they're showing all their friends they've figured out what show it is."

Sounds like reason enough to go on tour. In fact, the band's shows have started to attract the peripheral scene that became infamous at later-year Dead shows--do they still qualify as "Deadheads" or would something like "Starchildren" be more apropos?

"It's pretty funny," Larned says. "All of a sudden there'll be a big vending scene. Last weekend we closed out our show and there was a big drum circle outside. Stuff that makes you really feel like you're back in the day."

Notice that Larned says "back in the day" and not "back in 1984." Since the Dead were a 30-year institution, the Dark Star Orchestra has to jump around from the rootsy yet jazzy early '70s to the bluesy yet tight '80s and the downright bad '90s.

"If it's a '73 show, we have one drummer and we have [singer] Donna [Godchaux]. If it's an '80s show, I bring the Hammond organ and sing the Brent [Mydland] tunes. We really shoot for celebrating each of the different of the eras that the Dead went through."

ASIDE FROM the responsibility of picking the show, Larned still has the biggest challenge in the group. While the band's bass player has to know the idiosyncrasies of only one person (Phil Lesh), keyboardist Larned has to cover three (Mydland, Keith Godchaux, and Vince Welnick), depending on which era they're re-creating. "It's an interesting study in three guys who had three totally different piano styles and played completely different roles in the band," he says.

This summer, Sonoma County resident Welnick will join the band for some shows, when Larned will have to learn a fourth role: that of Bruce Hornsby, who played many shows in the early '90s when the Dead used two keyboard players. If and when the band decides to pick a show from the late '60s, Larned will have to learn how to play two more keyboard parts as well: those of Pigpen and Tom Constanten."

After months on the road being other persons, Larned admits the Dark Star members occasionally get the itch to be themselves. "Sometimes you're on tour and you've been doing Dead tunes every night for a couple weeks. You get that feeling, 'God, I just don't want to go out and be Brent tonight.'

"But that's what we do," Larned says. "That's easy to get out of once you start thinking about it."
---
The Dark Star Orchestra performs Saturday, July 21, at 8 p.m., at the Mystic Theatre, 23 Petaluma Blvd. N., Petaluma. 707/765-2121.
---
[ North Bay | Metroactive Central | Archives ]