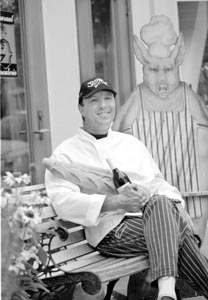 Something to smile about: La Charcuterie chef/owner Patrick Martin has gained national recognition for his cozy cuisine.

Photograph by Michael Amsler


Hog Heaven

Charcuterie chef Patrick Martin is as happy as a pig in a poke

By Marina Wolf

WHEN PATRICK Martin arrived in New York City from France 16 years ago, he had no job, no papers, and such a jumbled command of English that he had to watch Sesame Street to catch up. Such humble beginnings made his recent visit to the Big Apple that much more triumphant, when he took the Mediterranean French food and casual California style of Restaurant Charcuterie to a demonstration dinner earlier this year at the prestigious James Beard House.

In the restaurant business, that gig is like playing Carnegie Hall.

With the help of his family--wife Robin, 19-year-old Jake, and 13-year-old Amanda--Martin pulled it off so well that the Food Network is considering basing a series around him and his family. But in spite of the praise and media attention, Martin remains matter-of-fact. "You have to be careful, not to let it get to your head too much. I mean, it's neat, it's a beautiful experience. But it doesn't pay the bills, you know," he adds in a sly whisper, making a gesture at the cozy Healdsburg dining room.

"You have to make sure you keep this guy going."

His attention to the restaurant business comes no doubt in part from his mother and stepfather, who ran a cafe near Lyons in southern France. But it also is the natural legacy of a long life in restaurants and the total immersion he got at the beginning, as a 14-year-old in culinary vocational school. There were business and general-ed classes in the morning, and then cooking and waiting tables in the afternoon. At the end of the first year, Martin chose cooking. After graduation, he worked his way through several restaurants over a few years, but actually the decision was a tough one. "Cooks there work double shift, all the time. You don't make any money. Here they say they don't make anything, but in France they make zero. . . You really have no life, and it gets to you fast." Martin shakes his head expressively. "I almost lost my love for cooking in France."

FOR A CHANGE, the young Martin waited on tables the year before he left France, which was almost as bad: staff inspections, no tips, and rising as early as the chefs to do laundry and floors. He went on and upward to cook positions in London, New York City, and San Francisco, before settling in Sonoma County in 1995. But he's retained a certain perspective that his American-trained colleagues just don't have, and maybe should.

"I tell my staff not to complain," he says, smiling indulgently at a waitress tending the last lunch customer. "I've worked in kitchens where we weren't allowed to speak. The chef will kick you in the ass or punch you. I've never been in the army, but I imagine it's the same kind of treatment." Martin and his fellow students worked in fluorescent-lit basements--"You go outside, you cannot see in the sunlight for five minutes"--and lived in a land of minute, constant tortures.

"I remembered doing the coppers. I washed the pots at the end of the shift," he says. "I made my own paste out of vinegar, rock salt, flour, and sawdust. Oh, my god, we felt it in every cut. But we could not complain. We just did it.

"It's funny to think about those things now," he continues in a more serious tone. "I think it's made me a better person. People tell me I'm different from other French chefs. But I saw these things so often, people yelling and making other people cry, and it doesn't help. I saw it so many times, it happened to me so often, that I don't want to do it to anybody else."

Instead, Martin focuses on enjoying his freedom as a chef-owner. "My favorite part of the job is to make all the decisions, to be able to do what I want. Because for so many years I couldn't. I was in the kitchen, and even though I was doing all the cooking, the chef takes all the credit."

NOW MARTIN can step out of the kitchen and meet his customers anytime. He also enjoys this, a chance to get out of what a real-estate agent would call a "cozy" kitchen and just chat. Some are local winemakers, whose bottles rest in the head-high wine rack. Others are just regulars, some of whom have been coming to Restaurant Charcuterie for longer than Martin has owned it.

The pine-tabled room, with its droll pig decor, encourages intimacy, a match to the small-town feeling that Martin cherishes so much in his restaurant. But he is careful not to get too casual. Though he's worked the toughest restaurant cities in the world, he says, Healdsburg is the most challenging place to be a chef.

"Here people are really sophisticated. They have a palate. They train themselves with the wine," says Martin. "Also they will tell you what is good or bad. In New York or San Francisco you really don't give a damn what they think, because you know tomorrow you're going to have another thousand people walk by your restaurant."

When Martin mentioned his guests' candor to a colleague this last visit to New York, the chef (who shall, but probably shouldn't, remain anonymous) said that if one of his customers complained too vigorously, they'd get kicked out of the restaurant. "That's the difference between a small village and big city," Martin says, grinning. "We could never get away with that."

Poached Pear in Saffron with Mascarpone Cheese, Honey, and Pink Pepper Cookies

The title says it all, but you have to cook it to get the full sensory impact of this aromatic dish, which helped land Patrick Martin the Beard House gig.
10 cups water
4 cups sugar
2 cinnamon sticks
6 whole star anise pods
1 tbsp. saffron
6 Anjou pears, peeled
1/2 cup brandy
Bring water, sugar, cinnamon, star anise, and saffron to boil, and boil for 10 minutes. Add pears, bring back to boil, then simmer for 20 minutes (test doneness with toothpick, should be tender when pierced). Remove pears from syrup to cooling rack. Add brandy to syrup and simmer until syrup is reduced by half.
2 cups mascarpone cheese
1/2 tbsp. orange honey
1/4 cup cream
Mix cheese and honey. Add cream until right consistency (slightly runny).
Pink pepper cookies:
1/2 cup butter
1 cup sugar
1 cup flour
1 tsp. baking powder
1 1/2 tsp. crushed pink peppercorns
Whole pink peppercorns
Cream butter and sugar together. Gradually add flour and baking powder. Blend in crushed pepper. Work dough with hands to form a smooth ball. Pinch off 1-inch pieces of dough and roll into balls. Arrange balls of dough a little apart on an ungreased cookie sheet. Dip bottom of a glass in sugar and flatten ball. Press whole pink peppercorn in center of each cookie. Bake at 300 degrees, 20-30 minutes. Cool on rack.
When pears are cool, core and quarter them, and place four quarters on each plate. Pour a little syrup over and top with cheese mixture. Then, without touching syrup, arrange 4 cookies on each plate.
[ Sonoma County | MetroActive Central | Archives ]