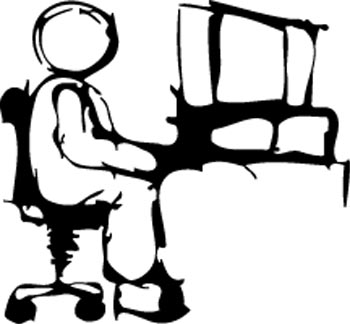 Byte This
The techno horror stories are out there. Believe them or not. There's the unfortunate fellow who broke the "cup holder" off his computer (he'd been using the load drawer of the CD-ROM drive as a coffee-mug holder and snapped it off the drive). The poor woman who couldn't get her "compootah" to run even as she pressed down hard on the "foot pedal" (which turned out to be the mouse). The irate couple who called tech support to complain that their keyboard no longer worked (after they'd cleaned it by filling up their tub with soap and water and soaking the keyboard for a day, then removing all the keys and washing them individually). And the bemused guy who called the techies to say he couldn't get his PC to fax anything. After 40 minutes of painstaking troubleshooting, the technician discovered that the man was trying to fax a piece of paper by holding it in front of the monitor screen and hitting the "send" key. Hmmm. But even fairly computer-literate folk like you and me can get themselves into such cyber chaos (even if we actually do read the manual) that seemingly the only remedy for an all-buggered-up system is to deliver a swift kick to the hard drive when it instructs you to "reboot." A saner option is to take the whole freakin' gizmo to the nearest computer hospital and pray they can resuscitate the little devil. Here are some of the local hardware/software gurus waiting to repair your maniacal machine:
Sonoma County
ADN 2000 Computer Center 5690 Old Redwood Hwy., Windsor. 838-0101.
All Computer Solutions Inc. 6 Petaluma Blvd. N., Petaluma. 765-1316.
Alpha Electronics 2750 Fourth St., Santa Rosa. 542-8363.
Business PC Troubleshooting Office 131 Stony Point Circle, Santa Rosa. 865-9328.
Computer Maintenance Service 141 Foundry Wharf, Petaluma. 778-6299.
Domaine Systems Group 1350 Industrial Ave., Petaluma. 769-1799.
Executron Computers 1831 Guerneville Road, Santa Rosa. 525-3715.
Holbrook Technologies P.O. Box 68, Rio Nido. 869-9061.
MacNetworks 456 10th St., Santa Rosa. 522-1400.
Pro-tech Computers 9074 Brooks Road, Windsor. 838-0390.
Sonoma Computer Store 500 W. Napa St., Sonoma. 938-0275.
Napa County
Advanced Data Systems 1735 Action Ave., Napa. 257-8600.
Computer Connections 2538 Jefferson St., Napa. 224-9115.
Computer Service Center 589 Coombsville Road, Napa. 224-5542.
[ Sonoma County | MetroActive Central | Archives ]