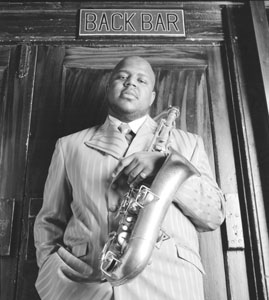 Play It Forward: Howard Wiley honors the past while honing his chops for the future.

True Jazz

Saxophonist Howard Wiley blows it wide open

By Gabe Meline
---
wi´ly adj. Cunning; sly; using craft or stratagem to accomplish a purpose

Wiley, Howard (1979- ) One damned sly, elusive jazz saxophonist
---
I have never met Howard Wiley. The complicated life of a jazz musician often resembles an outside curveball, and in my attempts to meet up with the 25-year-old saxophonist at his much-talked-about weekly stand at Zebulon's Lounge, I am batting 0 for 2. One time he called just 20 minutes before showtime with bad news; this time he's calling from New York City, where he's extended his stay to accommodate some last-minute nightclub offers.
"When I step out of town and I'm not there," he says on the phone, "the people think you're gone. But it's just for the week! I had to step on out, but I'm still here!"
Those who have caught Howard Wiley and his group at Zebulon's have witnessed an intense, probing musician who is showing amazing signs of growth. Nurtured in Sunday church sermons and at the famous Berkeley High School jazz program, Wiley recorded his first album when he was just 15.
Since then, his style has developed as his love of jazz's history has deepened, and on his most recent release, Twenty-First Century Negro (High Cotton), his brawny and formidable playing channels a rich tradition. Wiley passionately rattles off a long list of his many musical ancestors--Dexter Gordon, John Coltrane, Illinois Jacquet, Coleman Hawkins-- to name but a few. "I'm trying to make a bridge," he explains, "from what was, to what can be, to what is."
Wiley is constantly exploding and reassembling this bridge from past to present on Twenty-First Century Negro. The album's first three tracks alone are mesmerizing: the bouncy civil-rights anthem "Ain't Gonna Let Nobody Turn Me Around" gives way to "Big Daddtay's Boogie," a brash and bluesy dose of Kansas City bravado, a perfect backdrop for a strip-club scene in a gangster movie. But it's the slow pacing of "W.C. Durge," a 12-minute New Orleans funeral march, that showcases how Wiley's haunting introspection collides with jazz's past.
"It's really cool, because Zebulon's is about the only place I've found in the Bay Area where we can just play," Wiley remarks. "Other places, you have to stick to a certain style of jazz, but there, we can blow it open wide."
Blowing it open wide sometimes means playing until 2am, closing the doors, and continuing to play until 4 or 5 in the morning. It sometimes means halting an Ornette Coleman number to break into a medley of television theme songs, a Stevie Wonder tune or something by Nirvana. It sometimes means hypnotizing people into the small club from the sidewalk. At times, it can mean driving people out.
"I've tried to warn people that it can be a little intense on Wednesdays," laughs Zebulon's owner Trevor Cole. "But it's some of the most original and powerful music I've ever heard. I'd have them every night of the week if it was something that was more commercial, that people would flock in to hear."
In the swank comfort of Zebulon's classy decor, it is quite an experience to see Wiley, dressed to the nines in a double-breasted suit and fedora, wailing away against conventional musical form and testifying to the heavens of sound and possibility. Though Wiley can and often does play beautiful ballads, he also occasionally swims in what Sun Ra called "interplanetary music," what Sonny Rollins called "an open sky" and what your mom would probably call a bunch of goddamn noise. "In this age when everything is prerecorded and most music is dumbed down," explains Wiley, "it's foreign, the concept of jazz. People can't even understand what improvisation is."
At press time, Wiley is back from New York City, where he has been performing and recording with Mark Cary, an associate of Roy Hargrove and Stefon Harris. A nonstop schedule of long nights, he says, is part of his long-term goal to "understand and internalize the tradition, so we can attempt to move forward."
He's back at Zebulon's on Wednesday nights now, and lucky for me, I have Thursdays off.
---
Howard Wiley performs Wednesday nights at Zebulon's Lounge, 21 Fourth St., Petaluma. Shows start at 8:30pm and yes, sometimes last until dawn. $5. 707.769.7948.
---
[ North Bay | Metroactive Central | Archives ]