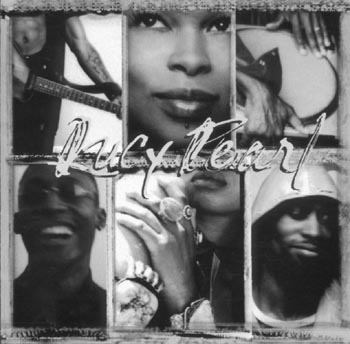 Supergroovin': The neo-soul supertrio Lucy Pearl is brash and breezy.

Shining Pearl!

R&B supertrio offers a sexy disc

Lucy Pearl
Lucy Pearl
Pookie/Beyond

WHENEVER R&B and hip-hop artists from different groups collaborate, the results are often overproduced and lackluster. That isn't the case with the neo-soul supertrio Lucy Pearl, which consists of graduates of two of the best soul acts of the '90s (ex-En Vogue member Dawn Robinson and singer/songwriter Raphael Saadiq from the underrated and much-missed Tony! Toni! Tone!) and a DJ/producer from one of the most brilliant hip-hop groups ever (Ali Shaheed Muhammad, the wizard behind the jazz grooves of the now defunct Tribe Called Quest). Highlights on this brash and breezy self-titled debut include the slinky "Dance Tonight," the playful "LaLa," and the terse, hard-rocking "Hollywood," sort of a companion piece to Public Enemy's 1990 anti-racial stereotyping rant "Burn, Hollywood, Burn." Robinson, who had the most powerful and versatile voice of all the En Vogue singers, has never sounded sexier.
Jimmy Aquino
---
Nina Gordon
Tonight and the Rest of My Life
Warner Bros.
OFFERING DECENT, if average, pop fare, this solo debut from the co-founder of Veruca Salt (Gordon left the band in 1998) displays the same lack of identity as did the band best known for "Seether" and "Volcano Girls." While Gordon's vocals are sweet and lilting in the tradition of the Bangles, Lisa Loeb, and the Corrs, she's still trying to find her own distinctive voice. The title track sounds like one of Madonna's ballads, but the uptempo "Badway" and "Number One Camera" rock like some of Veruca Salt's more palatable songs. Still, although tepid and innocuous, most of the material is very pretty. Highlights include "Horses in the City" and "Too Slow to Ride." Gordon also does a cover of Skeeter Davis' "The End of the World."
Sarah Quelland
---
Lil' Kim
The Notorious K.I.M.
Queen Bee/Undeas/Atlantic
FORGET SARAH JESSICA Parker. Lil' Kim should toss Parker's bland, I-refuse-to-do-nudity ass over to the curb and take over as the star of HBO's summer hit Sex and the City. The much-hyped sex-com needs the verbal authority and street-tough charisma that Kim displays in The Notorious K.I.M., the skilled, randy Brooklyn shock rapper's first album in nearly five years. It's like Sex and the City for those who can't relate to the all-white cast. Too bad much of the Puffy-produced music isn't worthy of Kim; it's full of the same old R&B vocal clichés and touches of overproduction that make Puffy-produced pop-rap so grating to the ears of this reviewer and serious hip-hop enthusiasts. Overdone tracks like "How Many Licks?" (which features Sisqo of "Thong Song" fame) will make you say, "Not tonight, honey. I have a headache."
J.A.
---
[ Sonoma County | MetroActive Central | Archives ]