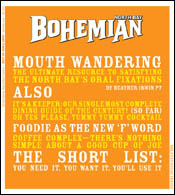 For the Week of
July 28-August 3, 2004
Cover Story: Mouth Wandering
The ultimate resource to satisfying the North Bay's oral fixations.
Queen of Cups: Taylor Maid Farms' Trish Skeie makes some damn fine coffee.
Fessin' Up to the 'F' Word: Proud confessions of a foodie.
News: Crisis and Opportunity
Santa Rosa's Mama Collective rises to the challenge of the GOP.
Homeland Security Über Alles: Lynn Woolsey and the American way.



Rev: This summer's biggest movies seem to be getting all political about cars.



Critic's Picks: A guide to the week's best arts, theater and music events.



Bot and Souled: 'Corpses' author sees 'I, Robot' and 'Fahrenheit 9/11' as same movie.
No Compromise: Environmentalist David Brower and the fight to save the earth.



Wild Things: Mardi Gras Indians turn up the heat.
Buying Blare: A study in the mechanics of shopping music.
Wouldn't It Be Nice: Brian Wilson's newest misses the hit again.
Feeling Monkish: 1956 was very good year for jazz buffs.



'G' Is for Grafton: Mystery novelist Sue Grafton soups the alphabet.



Swirl 'n' Spit: Gloria Ferrer Winery.



Please don't forget to write! The North Bay Bohemian welcomes letters commenting on our coverage or other topics of local interest. Please keep all letters at 300 words or less (we reserve the right to edit them for length and style) and sign them (unsigned letters will not be published). A local phone number must be included for verification. Postal: North Bay Bohemian Letters, 216 E Street, Santa Rosa, CA 95404. Fax: 707/527-1288. . Emailers, please include name, city of residence and phone number. Letters printed will list email address unless otherwise specified. Letters to the editor are not currently published in the online version of this paper.