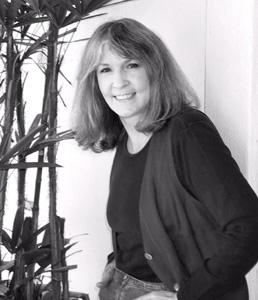 Photograph by Steven Humphrey

18 Rounds: Novelist Sue Grafton has just eight left to go.

'G' Is for Grafton

Mystery novelist Sue Grafton soups the alphabet

By Joy Lanzendorfer

Sue Grafton, author of the alphabet mysteries starting with A Is for Alibi, has sold millions of books. Her newest endeavor, R Is for Ricochet (Putnam; $26.95), is no exception. Released just two weeks ago, it is already No. 10 on the Amazon.com top sellers list as of this writing. Fans eagerly await each installment of the series about hard-boiled female private investigator, Kinsey Millhone.

Leaving the solitude of her Santa Barbara writing desk for a book tour can be taxing for Grafton, an introvert by nature, who appears at Copperfield's on July 29. But she still loves her readers.

"They are the dearest people on the planet," she says by phone from her home office. "I feel like I'm walking in a room full of friends every time I do a signing."

Even though she writes about crime, Grafton says she never sees the kind of obsessed fans that other popular authors have complained about.

"The sort of people who are attracted to my books tend to be good souls," she says. "I don't write butchery books about animals and children being dismembered. I think the people who are ultimately attracted to my books are involved in Kinsey's life and want to see what happens next. Readers who are attracted to the more gruesome and grisly naturally gravitate to other writers."

In R Is for Ricochet, Kinsey is hired by a wealthy man to pick up his daughter, Reba Lafferty, from a 22-month jail sentence so she won't violate her parole. It seems like easy money for Kinsey until Reba reconnects with her former lover, Alan Beckwith, and things get complicated.

This being the R book, there are lots of R words: Reba, Reno and romance, to name a few. But though there are guns, there is very little ricocheting. "'Ricochet' is used in a metaphorical sense," Grafton assures. "The book is really about the consequences of people's behavior."

A native of Louisville, Ky., and daughter of a lawyer and mystery writer, Grafton moved to California in the '70s to try her hand at television writing. But she didn't like Hollywood, and proceeded to write seven novels on the side--only two of which were published. Her eighth novel, A Is for Alibi, was published in 1982.

Though only a few years have passed in Kinsey's world since the first book, 22 years have passed in the real world. Grafton has slowed down a bit. The average time-span between books is now two years instead of one.

There are two reason for the longer turnaround time: Grafton is getting older and her job is getting harder. With 18 books down and eight more to go, she's in constant danger of repeating herself.

"Sometimes I feel like I'm using every smidgen of imagination I have," she says. "Each book is hand-crafted. Certainly, there are elements that run from book to book--Henry, Santa Theresa, jogging, peanut butter and pickle sandwiches--but I don't want the basic bones of the books to repeat."

Making sure she doesn't repeat herself also keeps her from getting bored.

"If I'm bored, the reader is going to be bored, so I'm constantly casting about for new ways to write the book," she says. "For instance, in K Is for Killer, I thought, wouldn't it be interesting to do a novel set entirely at night? N Is for Noose was my Western--there was just something about it that felt like a Western; M Is for Malice was my ghost story; and P Is for Peril was my film noir."

After all these years, Grafton has a set writing routine. She gets up every day at 6am, exercises and spends the morning in her office, alternately writing her daily two pages, doing research and writing in a long, single-spaced document she calls her "journal." She breaks for lunch, works for another hour or two and then often works out again at the end of the day. Exercise, she says, is great with dealing with the stress of her job.

In her journal, Grafton explores the ideas she gets from her subconscious, citing the Jungian term "shadow." Often when sleeping, her subconscious gives her thoughts and intuitions that end up opening the book for her.

"I'm always saying, 'Thank you, shadow, thank you, shadow,'" she says. "I kiss shadow's hand every day of my life. Shadow is our intuition and shadow is everything wicked about us at the same time. And when you're writing detective fiction, you have to be in touch with your dark side."
---
Sue Grafton reads from and discusses 'R Is for Ricochet' on Thursday, July 29, at Copperfield's Books, Montgomery Village. 2316 Montgomery Drive, Santa Rosa. 7pm. Free. 707.578.8938.
---
[ North Bay | Metroactive Central | Archives ]