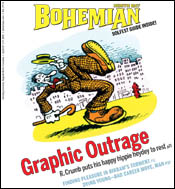 For the Week of
August 3-9, 2005
Cover Story: Graphic Outrage:
R. Crumb puts his happy hippie heyday to rest.
News: Tale of the Trail:
Teamwork saves Napa's proposed river walk.
The Byrne Report: Chamber Plot.
Briefs: Vetting Bush.



Helter Swelter: Bikram yoga addicts find transcendence in torment.
Rev: Not a Car Review: This is a flat-out love letter.



Critic's Picks: A guide to the week's best arts, theater and music events.



Sounds of Summer: Keepin' it light and breezy.
A Stitch in Time: Kirana Peyton's talismanic dirt folk.
Heart Food: Judee Sill's final recordings released after 30 years.



The Philosophy of Products: Surrealism is alive and well in the aisles of North Bay discount supermarkets.
Swirl 'n' Spit: Nicholson Ranch Vineyards and Winery.
Cookit: Positive Aspics.
First Bite: Sol Food.



Please don't forget to write! The North Bay Bohemian welcomes letters commenting on our coverage or other topics of local interest. Please keep all letters at 300 words or less (we reserve the right to edit them for length and style) and sign them (unsigned letters will not be published). A local phone number must be included for verification. Postal: North Bay Bohemian Letters, 216 E Street, Santa Rosa, CA 95404. Fax: 707/527-1288. . Emailers, please include name, city of residence and phone number. Letters printed will list email address unless otherwise specified. Letters to the editor are not currently published in the online version of this paper.