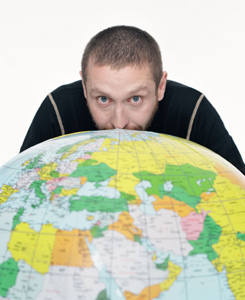 Global Whacker: Dave Gorman's Google quest led him afield and astray.

Whack Attack

Dave Gorman's wonderful, horrible life is up for laughs

By David Templeton

David Gorman is a professional obsessive, not that he'd put it that way. Nor would anyone else, for that matter.

"I'm not usually called anything so kind," Gorman laughs by phone from his London home. "Usually, attempts to describe or label me end up sounding dangerously as if I'd strayed toward insanity. But I would have to agree that I do allow myself to become obsessed with things, and people allow it, and I get to run around pursuing strange quests.

"Whatever they call me, I know I'm a very fortunate man."

A one-time standup comic turned multimedia adventurer, Gorman is the keen mind and troubled soul behind the international hit Are You Dave Gorman? in which the charming English oddball describes his attempt to win a bet by meeting 54 other people named Dave Gorman, a stage show that became a BBC series. His buzz-causing U.K. TV show Dave Gorman's Important Astrology Experiment followed Gorman (Pisces) for 40 days and 40 nights as he gave up normal life to subscribe in every detail the advice given in the horoscopes of 20 famous astrologers. In one of his first stage shows, Dave Gorman's Better World, Gorman wrote to more than 2,000 local newspapers requesting suggestions from their readers about how to make the world a better place.

Translation: Dave Gorman makes a living doing bizarre things on a large scale before entertaining the rest of us with stories about them.

Case in point: Dave Gorman's Googlewhack Adventure, his newest stage show (also a book), which starts Aug. 16 for a two-week run at the Napa Valley Opera House. A winner of the 2004 HBO U.S. Comedy Festival Jury Award, this is a step-by-step recreation of Gorman's most high-tech obsession to date: Googlewhacking.

(Excuse us if you already know this. "Googlewhack" is a slang term referring to that rare phenomenon that occurs when a computer user, employing a search engine such as Google, enters two unrelated words--unicyclist and periscopes, dork and turnspit, pomegranate and filibuster--and ends up with just a single hit. Many such word combinations will get you several hits, sometimes 50,000 or more, or else they will come up empty--no hits at all. The single-hit searches, the Googlewhacks, are highly unusual.)

Gorman discovered Googlewhacking from a total stranger. Here's how it happened. With his touring shows rapidly spawning books and TV shows, he began receiving up to 600 e-mails a day. On the day he first heard the word "Googlewhack," Gorman was supposed to be working on a novel, for which he'd been given a hefty advance by a large and increasingly impatient publishing firm.

"I don't know about you, but the first thing I do when I'm supposed to write something," Gorman says with a chuckle, "is to do everything else. If my house is tidy, it generally means I should be writing--and I'm not. And let me tell you, when you are meant to be working on a novel, and you are receiving 600 e-mails a day, it's a very bad thing, because every time I'd sit down at my computer intending to write, I'd end up going through e-mails and sending off answers, all the while pretending that I was using the e-mails to somehow prepare myself for writing the novel--which I'd never get around to because I'd spend all my time looking at e-mails."

On the fateful morning, Gorman received e-mail, the sum content of which was, "G'day Dav-o! Did you know that you are a Googlewhack?"

"My first thought was, 'I think I'm being insulted,'" Gorman reveals. "I remember thinking, 'This certainly sounds like an Australian, and there's only one part of my anatomy I can imagine the Australians calling a google, and this stranger is accusing me of whacking mine.' I was rightly confused, so I wrote this person back and asked, "What the hell is a Googlewhack?'"

The answer changed Gorman's life.

"What this Australian guy meant when he said I was a Googlewhack," says Gorman, "was that my website contained one. There were two words that led to DaveGorman.com, and only to DaveGorman.com, and this guy had been Googlewhacking and had found my website that way. He thought that was something I'd like to know, so he sent me an e-mail. And that's how I discovered Googlewhacking." Since Gorman was at that moment engaged in the process of actively avoiding writing a book ("Displacement activity was my friend," he says), what the message sender had unwittingly done was deliver the most addictive displacement activity possible. "If you find out what a Googlewhack is," he says, "and you are online at the exact instant that you find out what it is, and you do not immediately try to find one, I don't think you are really human."

Gorman is 100 percent human, because he spent the next three hours hunting for and finally finding his own Googlewhack on the website WomenandDogsUK.co.uk website, essentially a collection of old photos of nice women posing with nice dogs. Gorman contacted the owner of the site, and quickly informed him that he, too, was a Googlewhack. What followed was a bizarre globetrotting road trip, with Gorman setting out to find and meet the owners of several Googlewhackable websites before his 32nd birthday. What might have been merely odd is, in Gorman's hands, amazingly funny, sweet and inspiring.

"Later on, after I'd met this gentleman with the interesting site," Gorman explains, "he found a Googlewhack of his own. I ended up going to meet that person, and that person found a Googlewhack, so I went and met that person and that person found a Googlewhack, so I kept going and going."

Meeting a number of fascinating and very strange people, Gorman also was beset by disasters and calamities that would seem tragic if he weren't so good at finding the humor in them. The end result of his Googlewhack quest is one of the weirdest, funniest travelogues that's ever been turned into a one-man show. All in all, Gorman admits it's a strange way to make a buck, but he's grateful that he keeps finding the material to mine, and even more grateful that audiences keep coming to watch him tell the increasingly crazy stories.

"Googlewhacking is not something I did in order to create a show," he says. "It's actually--and I always worry about saying this kind of thing, because it makes it sound like it's going to be grim and bleak and terrible--but Googlewhack is actually the story of me having a great big breakdown. And yet it's played entirely for laughs. That's true, the main thing an audience gets out of the show is a night of laughing. It's as if the most amazing thing in the world happened to me, and now here I am standing here telling you about it. It's like that, because that's exactly what happened."

He's even got travel documents, photographs and body scars to prove it. That's right--body scars!

Gorman muses, "There's one point in the show, and I don't want to say too much because I don't want to spoil anything, but if you are in any doubt that this is a true story, I will show you scars on my body that prove that this is a true story.

"It's so curious," he continues. "Every time anything bad has happened to me in my life, I've ended up telling audiences about it, and it turned into the best thing that's happened to me. It's a ridiculously fortuitous position to be in." With a laugh, he adds, "I have no idea what I've done to deserve this."
---
'Dave Gorman's Googlewhack Adventure' runs Tuesday-Sunday, Aug. 16-28. Tuesday-Saturday at 8pm; Saturday-Sunday matinees at 2pm; Sunday at 7pm. Napa Valley Opera House, 1030 Main St., Napa. $38-$45. 707.226.7372.
---
[ North Bay | Metroactive Central | Archives ]