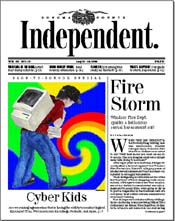 For the Week of
August 13-19, 1998
Back to School: Cyber Kids
Are we nurturing illiterate, computer-literate kids?
The Hot List: Essential websites that every college student should know.
At Your Service: Senior community-service projects come of age.
News: Fire Storm
Windsor Fire Dept. sparks a hellacious sexual harassment suit.
The Scoop: Getting to the heart of the matter.
Climbing Up on Capitol Hill: Check up on the your Congressional Representatives and U.S. Senators--where they stand, how they voted.



Suddenly Summer: Our guide to all of the season's hottest events.



Pressing Concerns: Kurt Kemp explores the dark side.
Fire Dance: Is Burning Man really such hot stuff?



Plowing Ahead: 7th Day Rototiller cultivates an eclectic sound.
State of the Phair: It's no Exile in Guysville, but Liz Phair's latest CD is A-OK.
Spins: New CDs by Dave Alvin, Josh Rouse, Slip Lip Rayfield and others.



Dicey Game: Director Brian DePalma's Snake Eyes scores big thrills.
Candy Kiss: Billy's Hollywood Screen Kiss is a breezy gay comedy that toys with Tinsel Town and the meaning of camp.



Sonoma Style: Freestyle! revamps its menu--emerges swimmingly.
Heard It Through the Grapevine: Get to the root of all things wine.



Please don't forget to write! The Sonoma County Independent welcomes letters commenting on our coverage or other topics of local interest. Please keep all letters at 300 words or less (we reserve the right to edit them for length and style) and sign them (unsigned letters will not be published). A local phone number must be included for verification. Postal: Sonoma County Independent Letters, 540 Mendocino Ave., Santa Rosa, CA 95401. Fax: 707/527-1288. Email: [email protected]. Emailers, please include name, city of residence and phone number. Letters printed will list email address unless otherwise specified. Letters to the editor are not currently published in the online version of this paper.