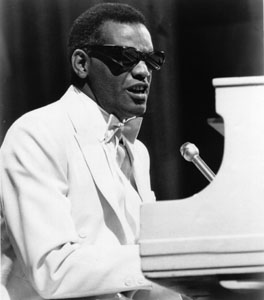 Modern Sounds: Ray Charles gave country music soul.





In Praise of Brother Ray

Ray Charles marks a milestone

By Greg Cahill

Forty years ago, America embraced the blindness and the blackness. Ray Charles was already well known to R&B fans and some white listeners in 1962, thanks to "Hit the Road Jack" and "Georgia on My Mind." But it was the clumsily named Modern Sounds in Country and Western Music, released that year, that captured the public's collective ear and introduced Charles as a song-interpreter extraordinaire to a broad mainstream audience.

The landmark album, featuring songs by such country legends as Hank Williams and Floyd Tillman, spent 14 weeks in the No. 1 position and nearly two years on the pop charts. The album spun off four singles: "I Can't Stop Loving You" (lodged at No. 1 for five weeks), "Born to Lose," "You Don't Know Me," and "Careless Love."

These days Charles--who appears Aug. 25 at the Marin Center in San Rafael--is a pop-culture icon. He has charted on Billboard during six separate decades, won 12 Grammy Awards, earned a star on the Hollywood Walk of Fame, been enshrined in a half dozen halls of fame, and received a bronze medallion from the French Republic.

And then there are the slot machines. You know you're famous when Bally Gaming Systems creates a slot machine in your honor. Charles has inspired three: Ray Charles' America the Beautiful, What'd I Pay, and Ray's Jukebox.

Yet Modern Sounds in Country and Western Music stands as a milestone in Charles' long career and for American popular culture. At a time when a generation of white kids has co-opted black music, lingo, and dress, it's hard to appreciate the significance of the release. But in 1962, with America in the throes of a racial meltdown, Charles accomplished the seemingly impossible. The poor, blind (he lost his sight at age five from untreated glaucoma), and orphaned Georgia native bridged the considerable cultural chasm between blacks, whites, and rednecks.

He was no stranger to adventurous musical projects--his collaborations with jazz great Milt Jackson and the Modern Jazz Quartet had earned him the nickname the Genius. But the concept of a country album was unusual, producer Sid Feller recalled in 1988, even for Ray Charles. "He understood country music," Feller said. "He understood the simple and plaintive lyrics and wanted to give it a new approach. He felt that by giving the music a lush treatment, it would be different from what country singers would do with the material."

Jazz bandleaders Gerald Wilson and Gil Fuller wrote the charts, and Marty Paich added the string arrangements, but it was Charles' heartfelt, bluesy vocals that made these tracks so memorable. The original songs ran the gamut from Tillman's western swing to Williams' hillbilly laments to Don Gibson's country pop. But Charles gave all of the songs a soulful sheen.

In fact, Charles was so enamored of the results that he regarded the album as a single work and refused to permit Feller to release a single--an unheard of notion in that era. But when teen heartthrob Tab Hunter covered "I Can't Stop Loving You" using Charles' arrangement, the then 31-year-old soul singer capitulated. Charles' single soon blew Hunter off the airwaves.

The following year, Charles tried to follow up on the album's success with a second volume of country songs. That album produced the hit version of Louisiana Governor Jimmie Davis' "You Are My Sunshine," which featured a soaring vocal break by Raelette singer Marjorie Hendricks, but no Ray Charles album ever topped the success of the original Modern Sounds of Country and Western Music.

"Not only did [that album] gain him millions of new fans, it firmly booted . . . Charles from the R&B category and let general (let's face it) white audiences know what connoisseurs had taken for granted for several years," wrote biographer Todd Everett, "that Ray Charles had something to say to virtually everybody and that there's no one else who can tell it like Brother Ray."
---
Ray Charles performs with the Ray Charles Orchestra and the Raelettes on Sunday, Aug. 25, at 3pm, at the Marin Center, Avenue of the Flags, San Rafael. Tickets are $28-$60. 415.499.6800.
---
[ North Bay | Metroactive Central | Archives ]