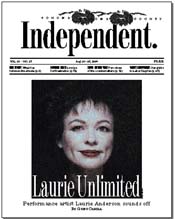 For the Week of
August 20-26, 1998
Cover: Laurie Unlimited
Performance artist Laurie Anderson sounds off.
News: Net Casting
Wanna be a broadcasting star? The Net may be the ticket.
The Scoop: What lies between the sheets.
Climbing Up on Capitol Hill: Check up on the your Congressional Representatives and U.S. Senators--where they stand, how they voted.
Feature: Generation Wired
The caffeinated-beverage industry launches a full-scale assault on kids.
The Sultan of Schwing: Ross Jeffries claims his seduction methods can turn pathetic losers into rakish lotharios for $900 bucks a pop.



Suddenly Summer: Our guide to all of the season's hottest events.



Fantasy Architecture: David Prothero designs for living.



Spins: New CDs by John Lurie and Duke Ellington.
Audiofile: Reviews of the latest CDs by Parlor James, Home Grown, Cowboy Junkies and the Brian Setzer Orchestra.



Going, Going, Going, Goth: Wesley Snipes makes the world safe for non-vampires in Blade.



Kitchen Envy: Thou shalt not covet thy neighbor's Cuisinart.
Heard It Through the Grapevine: Get to the root of all things wine.



Jabba Wocky: In praise of Star Wars' most vile character.



Please don't forget to write! The Sonoma County Independent welcomes letters commenting on our coverage or other topics of local interest. Please keep all letters at 300 words or less (we reserve the right to edit them for length and style) and sign them (unsigned letters will not be published). A local phone number must be included for verification. Postal: Sonoma County Independent Letters, 540 Mendocino Ave., Santa Rosa, CA 95401. Fax: 707/527-1288. Email: [email protected]. Emailers, please include name, city of residence and phone number. Letters printed will list email address unless otherwise specified. Letters to the editor are not currently published in the online version of this paper.