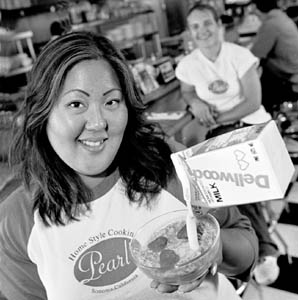 Photograph by Rory McNamara

Look, No Hands: Pearl's owner, Sylvia Park, pours on the creamy goodness.

Pearl Jam

Pearl's Home Style Cooking, where the world is not your oyster

By Sara Bir

Before we get too far into this story, I need to say that I bruised my tailbone when I fell out of my raft while white-water rafting recently, and since then I have not been the same. Beyond waddling around in a painkiller-induced head-haze, I've noticed that my appetite has altered. Like a TV show where a character gets bonked on the head and assumes a new personality, I get cracked in the ass and crave canned foods. The other night, I went to the grocery store specifically to buy a can of Chef Boyardee beef ravioli. I had been thinking about it all day, in fact.

And I can't even walk right. I was shuffling around like Tim Conway's old-man character on The Carol Burnett Show, but since then I've discovered that waddling covers more ground. I sure as hell can't run, and running is my main artillery against my broken ass getting bigger from all these restaurant reviews.

So I go running to defend myself against obesity, but mainly because it feels good to run and because running is the time when I come up with all of my wonderful writing ideas (like, "Hey! I'll start off this restaurant review by talking about my butt!"). But now I have no dynamic rumination time, only waddling time.

Now you can envision the frame of brain and body I was in during my experience with Pearl's Home Style Cooking in Sonoma. I craved canned food and my mind was on my behind, not the most professional of composures. Unfortunately, Pearl's didn't do much to help either the butt or the composure.

Pearl's opened up early in 2000 in the Sonoma Market shopping center. Even with joints like the Breakaway Cafe and the Garden Court, I can see how Sonoma could be in the market for clean, unassuming, unfancy, hearty food, what with all the fancy bistros and restaurants there--even wine country tourists need regular American-style breakfasts. And I had heard Pearl's was a good breakfast place.

I love a big breakfast. I love eggs and potatoes and toast and cured pork products and cups and cups of coffee. Big breakfasts, though, are curious. Like alcohol, they feel wonderful at the time, and you only want more--until suddenly your stomach lurches, and then comes the breakfast hangover that will poison you for the rest of the day.

Combine an alcohol hangover with a big breakfast, however, and the two somehow manage to cancel each other out. I figure it accounts for the English not being extinct by now; they are both drinkers and eaters of the biggest breakfasts in the world.

My first breakfast at Pearl's was on a weekday, around 9-ish. I strolled in after the morning rush. Most of the folks in there looked to be late-morning regulars or day trippers through town. I like the interior. It has a classic home-cookin' cafe ambiance, with a few '50s kitschy doohickeys here and there, but nothing too cheesy or neodiner slick. The bald dude at the counter is very friendly. Everyone there is, actually; it's quite noticeable.

I got the daily scramble (veggie) and a coffee. The coffee is served in these deep, cobalt-blue mugs, and it's a big step above typical breakfast-joint coffee. I rooted through the Press Democrat I had bought to keep me company and sipped my good-quality coffee out of the cobalt-blue mug.

And then disaster struck! The food section was missing! You read the paper and look forward to the food section on Wednesday all week long, and then when you actually splurge the 35 cents to buy your own paper instead of borrowing your editor's copy, the food section is missing!

Muddled and downhearted because of my missing food section, I contemplated my eggs. They were not what I had anticipated. The veggie scramble was more of a frittata than a scramble, retaining the shape of the pan it was cooked in rather than being in loose, creamy curds. And there was a ton of melted cheddar cheese on top. You could have peeled it off in a single layer. Eggs are not pizza! Despite peppers, onions, tomatoes, and mushrooms, plus all that cheese, it didn't taste like much.

The hash browns were the saving grace. I love hash browns when they are made correctly. When I ordered, the friendly waitress asked, "Would you like your hash browns extra crispy?" And I said, "Why, yes! I would!" It's actually very difficult to make good hash browns--I can't, at least. And neither can most breakfast places.

But Pearl's hash browns were a deep and even golden brown, all fused together in one crispy cake. I dumped tons of ketchup all over them and dug in. But even after only eating about half of my breakfast, I wound up being full all day long--which was economical, yes, but a bummer. Waddling around, I felt like a bursting slug.

A few days later, I returned and got a short stack of French toast with a side of chicken-apple sausage ($6.85). How short is a short stack? Try two little triangles of bread, tiny and stark against the whiteness of the plate. Turns out my shorted stack was just fine being short, because I would not have been able to eat more than one slice's worth: this French toast looked and tasted deep-fried. That's what they do with those French-toast sticks at fast-food restaurants. The batter on the outside was unappealingly dark and crunchy, while the inside was oily and not custardy at all. A real drag.

The sausage helped little--four greasy links lined up on the plate next to my deep-fried French toast. I had ordered a side of chicken-apple sausage in the interest of going the extra mile as a working gourmet. The links tasted like regular sausage, only for 90 cents extra. Why is chicken-apple sausage more expensive than regular pork sausage? Both chicken and apples cost less per pound than pork. I don't see what the big deal is.

Since Pearl's serves dinner and lunch too, it was only right to have some nonbreakfast food. I was hoping it would be an improvement. I scheduled a Mr. Bir du Jour and we had a late lunch: he, a BLT ($5.50); me, a grilled chicken sandwich ($6.50). Both came with sides of fries.

My sandwich was a big, plump chicken breast with lettuce, tomato, and cheese, just as you would expect. What you would not expect was that it was on focaccia, though it didn't add any special dimensions to the experience. You can't dress up a plain chicken sandwich just by throwing it on fancy bread. The chicken itself was tender and moist, but it needed of some kind of seasoning. The fries were pleasing, crisp, and not soggy at all. Pearl's does seem to have a way with potatoes.

I asked Mr. Bir du Jour how his sandwich was. He said, "Um, fine. The bacon's a little fatty, but bacon is fatty." Then he said, "Why are we here again? Why are you reviewing this place?"

I didn't know the answer anymore. "We could have just gone to Denny's," he said. Hmm. Denny's staff is not as nice, their coffee is not as good and isn't served in big, cobalt-blue mugs, and their hash browns can no way be as good as Pearl's. But Denny's does not deep-fry their French toast. Pearl's calls itself a "homestyle cooking" restaurant; you might do better to do some home cooking yourself. If you have recently bruised your tailbone, let me suggest a can of beef ravioli. You won't be at Pearl's, but the world will be your oyster.
---
Pearl's Home Style Cooking, 561 Fifth St. West,Sonoma. Breakfast and lunch daily, 7am-2:30pm; dinner Wednesday-Saturday, 5pm-9pm. 707.996.1783.
---
[ North Bay | Metroactive Central | Archives ]