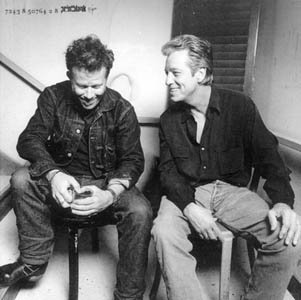 Shore leave: Producer Tom Waits, left, and bluesman John Hammond.

Waiting Game

John Hammond delivers the goods

By Greg Cahill

IT SEEMS odd at first. A dozen of the 13 tracks on bluesman John Hammond's latest album, Wicked Grin (Virgin/Pointblank), were penned by the eccentric Beat songster Tom Waits, some of Waits' band members play on the sessions, and even the elusive Waits pops up with guitar work, errant handclaps, and his trademark growl.

Oh yeah, did I mention that Waits, a Two Rock resident, supervised the sessions at his favorite haunt, Prairie Sun Studio in Cotati?

That makes it a Tom Waits tribute, produced by Tom Waits and featuring Tom Waits. That's a lot of Tom Waits from a guy who's notoriously, let's just say, low-key. In fact, the project brings to mind that 1998 Woody Allen movie Celebrity, in which director Woody Allen hires the younger and much more bankable British actor Kenneth Branagh to play a character who exhibits all the neurotic mannerisms of . . . Woody Allen!

But don't jump to conclusions--Wicked Grin wasn't planned as a Waits tribute, it just happened that way.

"This was a very spontaneous album--there were no rehearsals. We went in cold as a band and gelled almost immediately," explains Hammond, during a phone call from his East Coast home. "The plan was not to record Tom Waits' songs at all [though he was producing], but I was hoping that there might be one of his songs that we might do. So he suggested one. That was the first tune we recorded ["2:19"]. It was done in one take--live. We all looked at each other and said, 'Tom, do you have another one?' It was truly dynamic.

"It was . . . inspired."

Hey, go with the flow. After all, the result is the best album of Hammond's 40-year career. A record dripping in soul-wrenching blues, gospel, and country influences that has drawn rave reviews. The All Music Guide declared Wicked Grin to be Hammond's "most daring musical departure."

"It was daring in a way," Hammond demurs, "though at the time it didn't seem like anything other than a chance to jump into these songs, a lot of which I hadn't heard before. So it was a completely fresh take from my perspective, and Tom just enjoyed the heck out of it."

This was no flash in the pan; the pair go back 25 years. In 1992, Waits wrote a song for Hammond called "No One Can Forgive Me but My Baby," and Hammond played on Waits' acclaimed 1999 CD Mule Variations. "From the first time I ever heard him perform--in 1976 I was on a show with him at a dance hall in Tempe, Arizona--and I knew that this guy was really special and one of the greatest performers I'd ever heard. Having this truly extraordinary chance to work with him was way over the top--it was a dream-come-true kind of thing."

Of course, a lot of folks have tapped the Waits songbook--even Rod Stewart scored a big hit with the 1990 cover of "Downtown Train"--but few have delivered the goods like Hammond, a savvy song interpreter who has a reputation for avoiding hoary old blues chestnuts. "I've been recording for more than 40 years--literally hundreds of songs and 35 albums," he says. "When I choose a song, I want to make it my own, which is really the case with any singer. I've been fortunate to be in the right place at the right time.

"I don't why or how, but I'm a very lucky guy."
---
John Hammond performs songs from 'Wicked Grin' on Friday, Aug. 31, at 7:30 p.m. at the Mystic Theatre, 21 Petaluma Blvd. N., Petaluma. Tim Easton opens the show. Tickets are $20. 707/765-2121.
---
[ North Bay | Metroactive Central | Archives ]