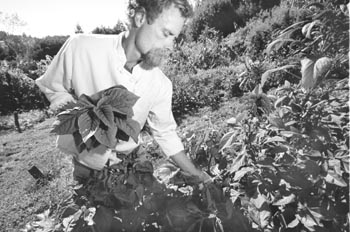 Photograph by Michael Amsler




Tending to business: Doug Gosling, head gardener at the Occidental Arts and Ecology Center, doubles as executive chef Sept. 9 at a vegetarian benefit dinner culled from the facility's extensive selection of heirloom plants.

Humbly Exotic

OAEC dinners offer peek at possibilities

By Marina Wolf

FUNDRAISING DINNERS. The causes are many and worthy--from monkeys for the color-blind to aid for Kabuki- deprived children--but the dinners are often the same: California French food (in intent, if not execution), black-tie attire, and silent art auctions in tents so large as to obliterate any sense of community or connection to the cause.

In that atmosphere of extravaganza and effect, the Occidental Arts and Ecology Center fundraisers stand out by virtue of understatement. A spreading oak tree will likely be both ceiling and decoration at this year's harvest dinner, held on Sept. 9 at the center's 80-acre spread in the hills of Occidental in west Sonoma County. The paths surrounding the "dining room" are carpeted with plain old backwoods grass, made slightly treacherous by clumps of composting straw and volunteer vegetables (weeds). In other words, heels are unnecessary and probably hazardous.

And rather than undergoing acrobatic feats of transformation behind kitchen doors, the food is being prepared simply.

Head gardener Doug Gosling also plays executive chef on these occasions, but his gardener's devotion to the unpredictable rhythms of Sonoma County seasons doesn't allow him to even outline the menu until the day of the event: he would prefer to build the dinner around what's really ripe.

That wait-and-see approach sounds a little risky, but Gosling insists that cooking is easier. All the flavors are there in the produce, so complicated sauces and preparations are unnecessary.

Harvest Dinner: A great diversity of ingredients, tastes, and colors typifies the OAEC's fare, as in this sample menu from a past dinner.

"Ripe, in-season ingredients take care of themselves," he says, echoing chef-advocates such as Alice Waters and Molly Katzen in their dedication to vibrantly healthy fruits and vegetables. "There doesn't need to be a lot of processing when you have fresh, organically grown produce."
These ideals, as well as a commitment to biodiversity, intentional communities, and sustainable food systems, took root at the OAEC site back in 1974, when gardeners of the Farallones Institute first broke ground. Two changes of ownership later, the densely planted main garden, which staff members affectionately call the Mother Garden, is the generous source of plants for the center's semiannual plant sales, as well as school-garden programs around the county and even an organic garden supplying the Food for Thought food bank for those with AIDS.
OAEC goes beyond organic into heirloom: many of the fruits and vegetables in its gardens are rare or old-fashioned varieties, if not to say almost extinct or simply unheard of in the North American marketplace. Andean fruits and vegetables, some of which have been cultivated in the mountain ranges of South America for thousands of years, form a significant part of the collection.
In the coastal hills, these ancient plants have found a match for their growing conditions at home and thrive so well that Gosling showcases them every spring in a fundraising dinner of their own. Here are squashes, summer and winter, in shapes and colors never seen in the supermarkets; legumes and roots that are distant relatives of the potato and string bean and taste very little like them; and fruits such as the Cape gooseberry that somehow captures a mango-coconut-berry taste in a tomato texture and a tomatillo husk (Gosling is planning to incorporate it in the evening's dessert).
As exotic as they are, these vegetables and fruits are easy additions to the harvest feast that Gosling plans each summer. Past dinners have featured summer weeds lasagne, sautéed Peruvian fava beans, and bread flavored with popped Aztec amaranth seeds ("under a magnifying glass they look like little tiny popcorn"). For appetizers one year, Gosling set out crostini with three kinds of pesto, made from Azerbaijanian, Italian, and Iranian basil. And the "Mother Garden" salad contains some 40 kinds of greens and flowers.
All these unusual and colorful dishes illustrate one thing clearly: we are starved for variety.
"Before the Second World War, people had much more diversity," says Gosling. "But now the food supply has been very streamlined and simplified. We might think we have a lot of choices, but in fact, relative to what used to be available, the choices are extremely limited."
What's more, he says, the flavors we have access to are limited, too: "Produce grown by agribusiness isn't grown either for taste or for nutrition. For them, it's all about transportation, shelf life, and uniformity of size and color."
Gosling and the other workers at OAEC hope to reverse the trend, planting seeds, as it were, about the other possibilities of food supply.
Clearly, enough patrons have thought the cause worthy to fill up the fundraisers every year. But a few otherwise supportive community members have balked at the suggested sliding scale for donations--$100 to $500 per person.
Gosling acknowledges the complaint; it is a lot of money.
But it's well within the range for fundraising events, he says, especially considering that the dinner is one of the few sources of money that OAEC relies on. And anyway, fine dining in the Bay Area, even in Sonoma County, can easily top $100 a head.
"I think we're offering an experience you can't get anywhere else," he says.
---
A vegetarian benefit dinner, "Fall Harvest Dinner: Tastes of Diversity," will be served on Saturday, Sept. 9, with hors d'oeuvres around 5:30 and dinner at 6:30, at the Occidental Arts and Ecology Center, 15299 Coleman Valley Road, Occidental. Reservations are required. Proceeds benefit the OAEC. Tickets: $100&-$500. 874-1557.
---
[ Sonoma County | MetroActive Central | Archives ]