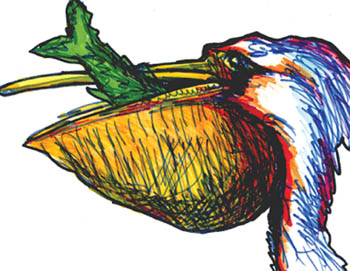 Star Art: Given enough pot and free time, all the animals get their due from George Frayne's pen.

Ozone Player

Commander Cody touches down in California again

By Bruce Robinson

Had George Frayne been a better athlete, the world might never have boogied down with Commander Cody and His Lost Planet Airmen. After excelling in high jump and shot put at his Long Island high school, young Frayne hope to do likewise at the University of Michigan. But faced with Olympic-caliber teammates there, he soon gave it up.

"One year, then into music," he recalls cheerfully by phone from his home in upstate New York, "that was the end of my jock career."

Fortunately, he was well prepared for the switch. In ninth grade, he relates, "I took this music class just to kill time before track practice." One day, the teacher demonstrated piano boogie riffs and Frayne noticed that "all the chicks dug it." Thus inspired, Frayne spent the next three years learning from Bob Neidig, a former sideman to jazz star Eddie Condon.

Armed with those chops in Ann Arbor, he found a corps of likeminded players who developed a throwback cocktail of country, rockabilly, Western swing, jump blues and more, coupled with a band name derived from a vintage serial. "I was watching TV one afternoon, and here comes this guy with a black leather jacket, a black helmet and a rocket pack on his back. He was Commando Cody," Frayne chuckles.

After the Lost Planet Airmen were borrowed from another episode, the full concept was set. "We figured, let's take a science-fiction name and play country and western music; at least we'll get somebody's attention. And that's what happened."

But with such a name, the question arose repeatedly: Who actually was the Commander? At first they resisted. "There's no Lynyrd Skynyrd. There's no Jethro Tull," Frayne reasoned. "Why should we have to have a Commander?" But resistance proved futile, and eventually, he says, "The band got together and voted me Commander."

This posed another problem, as the band had three vocalists, and the newly promoted Commander wasn't one of them. "I couldn't sing at all back then," he admits, "but I could talk fast." Researching the fairly fertile history of prior recording artists with that same skill set, Frayne came across "Hot Rod Lincoln," and it quickly became his signature--and for a long time his only--vocal appearance with the band. It later appeared on the group's debut album, Lost in the Ozone, and became their only charting single, cracking Billboard's Top 10 in 1972.

The band headed for the bright lights of the Bay Area in 1968, but settled into Berkeley rather than San Francisco. "It was much more folk-oriented in Berkeley; they felt the country thing more quickly," Frayne reflects. "We arrived June 4, and by September, we were opening for the Grateful Dead." They toured extensively, appearing with everyone from the Doors to Led Zeppelin to Alice Cooper.

But over time, the steady touring and other factors began to take a toll. Finally, in 1976, Frayne says, "it broke down of its own weight," Frayne says. "Everybody basically had to just go home and start over."

It was about this time that Frayne started sketching. "I wasn't working and I had a big bag of weed, so I decided to draw all the animals," is how he describes it. After three years of birds and beasts, he began to diversify into portraits of "movie stars, comedians and presidents." Some of those were included in the 1978 book Star Art (along with works by Joni Mitchell, Ronnie Wood, Cat Stevens and others), which opened new doors in the art world. Frayne began to exhibit regularly at the Stinson Beach Art Center and beyond, eventually scoring a one-man show at the high-profile Vorpal Gallery.

For the past eight years, the Commander has resided happily in Saratoga Springs, N.Y., home of a venerable racetrack. He's a big fan of the online Daily Racing Form, too. "You don't have to go down to the store and hoist a giant newspaper with the subway fold," he explains. "The whole form comes right down, and you can use your cell phone from the track to place your bet."

He has also recruited a new crew of Airmen, who work regularly along the Eastern seaboard, doing three- to four-day weekend jaunts instead of extended tours. "Being on the road three to four weeks like we used to do is nuts," he sighs. "When you're an old geezer, you can't do that."

But he insists he hasn't really slowed down. "The frantic level of my life never went down, but its not as visible as before," the Commander asserts. "I'm just as busy; I'm just not killing myself on the road."
---
Commander Cody and His Lost Planet Airmen land at the Last Day Saloon on Thursday, Sept. 1. Tommy Gold Band open. 120 Fifth St., Santa Rosa. 7:30pm. $15-$18. 707.545.2343.
---
[ North Bay | Metroactive Central | Archives ]