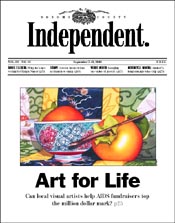 For the Week of
September 7-13, 2000
News: Gore or Less
Thinking of voting for Ralph Nader for president? Anti-nuke activist Daniel Ellsberg has one word for you: Ka-boom!



Lost in Place: Using your guile to match wits with the wilds of suburbia.
Spanish Moon: A week in the redwood wilds at flamenco camp.



Nuanced Nance: How Tricky Dick nurtured a Sonoma County winery.
Heard It Through the Grapevine: Get to the root of all things wine.



Hard Knocks: A struggling ex-con can't win for losing in 'The Opportunists.'
Forbidden Fruit: Two women thrive in the semidarkness of wartime Berlin in 'Aimée & Jaguar.'



Righteous Babe: Joan Osborne: What feminist roots?.
SF Club Guide: Disco divas, hip-hop connoisseurs and salsa suaves to flannel-clad pinball players, jazz luminaries and more from the City by the Bay.



Pop Quiz: How much is a good poem worth?
'Storm' und Drang: A motorcycle trip turns into an endurance contest in local author's new book.



Please don't forget to write! The Sonoma County Independent welcomes letters commenting on our coverage or other topics of local interest. Please keep all letters at 300 words or less (we reserve the right to edit them for length and style) and sign them (unsigned letters will not be published). A local phone number must be included for verification. Postal: Sonoma County Independent Letters, 540 Mendocino Ave., Santa Rosa, CA 95401. Fax: 707/527-1288. Email: [email protected]. Emailers, please include name, city of residence and phone number. Letters printed will list email address unless otherwise specified. Letters to the editor are not currently published in the online version of this paper.