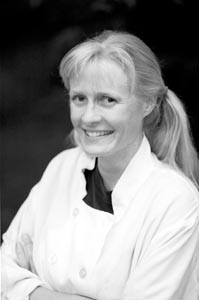 Haute stuff: Alex Bury has sparks flying at Sparks in Cotati, a wellexecuted gourmet vegan eatery.

Photograph by Michael Amsler


Enlightened Eating

Sparks serves gourmet vegan fare

By Paula Harris

NOT TOO LONG AGO a restaurant in food-lovin' San Francisco turned gourmet dining on its collective shell-like ear by introducing a menu that was entirely vegan, entirely healthful--and entirely sumptuous.

Millennium focused on intricately prepared gourmet vegan delicacies. Pricey and hip, the candlelit eatery swiftly became a favorite among vegetarians and vegans and, yes, even among committed carnivores, who simply appreciate a delicious and creative dish (whether it once had a face or not).

Now, like Millennium, Cotati's newly opened Sparks at the Inn is striving to make vegan food exciting and wonderful, no small feat given the blandness of many vegan foods, which are fleshless, eggless, and dairyless. The dishes at Sparks are influenced by the flavors of international cuisines and are made with mostly organic, nongenetically modified foods. There are even plans for upcoming vegan cooking classes at the restaurant.

Owner/chef Alex Bury received her training at New York's chichi Culinary Institute of America, but her politics are purely community-oriented. "We are striving to run a successful business that does the least amount of harm possible," states her menu. The napkins are recycled, unbleached paper; the wines are organic; and even the restaurant's name, Sparks, is derived from the name of critter-activist group SPAR (Sonoma People for Animal Rights).

Sparks is located at the back of Cotati's minimalist music venue/neighborhood watering hole, the Inn of the Beginning. This is both a blessing and a curse for the restaurant. A blessing because of the built-in exposure. A curse because after dinner the staff must completely convert the restaurant into a nightclub.

In addition, there's the potential noise problem. Live concerts begin at 9 p.m., but if musicians start sound checks beforehand, that could interfere with the restaurant's comfortable, intimate ambiance. Sparks is offering "a sound-check special," a 10 percent discount for diners who endure excess noise.

But don't let these hiccups deter you from trying this new restaurant; a recent meal suggested that dining here could well save you a trek to San Francisco.

THE PLACE IS SMALL and cozy, partitioned off from the bar by a thick black curtain. There are about 10 tables inside and a handful outside on the leafy enclosed patio. The ancient, thick wood-plank floor is dinged and scarred and full of character. The sponge-painted walls are rose, decorated with colorful horticultural photos. The tables (each with a painted top) hold flowerpots of different herbs, and tea lights with dried beans or lentils decorating the white wax flicker warmly. Music on the sound system runs from world beat to classical.

Our waitress, a very friendly and gracious server, brings water with fresh mint and lemon slices, a pot of bright-orange carrot "butter" (not actually butter, but carrots and zucchini puréed with olive oil), and hefty whole-grain rolls to smear it on.

A complimentary amuse-bouche is a single warm, plump clove of garlic encased in fritter batter with a well-balanced plum sauce of black beans, ginger, maple syrup, and fruit from the plum tree out back. A tasty morsel.

Appetizers include "sausage and potatoes" ($5.95). No, not real sausage--bite your tongue!--but house-made seitan medallions (made with protein-rich wheat gluten), with a warmed roasted-potato salad dressed with fennel and maple-mustard vinaigrette. The faux meat has the texture of true sausage, with a rich, smoky Louisiana-link flavor.

There's also sushi salad ($5.95), with three sushi pieces filled with avocado and mango that tend to fall apart a bit. On the side is a neon-green wasabi sauce, along with a huge pile of salad greens, flecked with sesame seeds and smidgens of fresh ginger that give little sharp nips. Unfortunately, the salad dressing is so vinegar-laden it painfully puckers the cheeks.

The curried vegetable stew entrée ($9.95) is an extremely satisfying creamy golden curry of onions, yams, carrot, and squashes piled high with coconut-ginger jasmine. Although the dish is very flavorful, you're not assaulted by the spices. It's very smooth, but with a sly after-zing.

The savory tempeh (fermented soybean) loaf ($11.95) is a fine choice for any meat lover. Moist and tasty, it is generously made up of savory brown shiitake mushrooms and other veggies with a red wine sauce and served with extra-chunky garlic mashed potatoes (an unusual blend of creamy mashed spuds plus whole unskinned pieces). Also on the plate is one perfectly steamed baby bok choy and a cornbread muffin with delicate flecks of dill.

You won't miss the meat, especially with a glass of red wine.

There's a selection of Mendocino County Bonterra organic wines by the glass or bottle. A bottle of 1997 Bonterra zinfandel ($27) is lovely, full and spicy. Sparks also offers microbrews and imported beers and natural juices.

There's also an exciting vegan dessert selection. A tart lemon curdlike custard ($4.95) is lighter than cream, heavier than Jello-O, with fresh fig slices, blueberries, and orange zest. But a pair of peach-blueberry fritters ($4.95), with an intense clove flavor, are overly heavy.

One novel touch: instead of an after-dinner mint, you get a sugary piece of crystallized ginger to give you a fiery-sweet blast. After eating vegan all evening, it's surprising how sated one feels by the end.
---
Sparks at the Inn
8201 Old Redwood Hwy., Cotati; 664 0944
Hours: Tuesday-Saturday, 5 to 9 p.m.
Food: Gourmet vegan; mostly organic and nongenetically modified foods
Service: Friendly; low-key but efficient and gracious
Ambiance: Intimate and comfortable bistro in the back of a music club and bar, so it could get noisy later in the evening
Price: Moderate
Wine list: Small selection of organic wines
Overall: 3 stars (out of 4)
---
[ Sonoma County | MetroActive Central | Archives ]