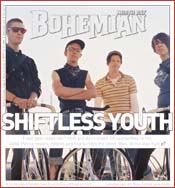 For the Week of
September 15-21, 2004
Cover Story: Shiftless Youth:
Fixed-gear bikes can't shift and won't brake. Of course they're hot. Gabe Meline resists, relents and finally rides the trend. Man, do his legs hurt.
News: Moving In
For Habitat for Humanity of Sonoma County, homes are where the heart is.



Rev: Think Again: Think leasers in San Francisco staged funerals for their beloved cars... draping American flags, playing 'Taps.'



Critic's Picks: A guide to the week's best arts, theater and music events.



The Swank Tank: All yesterday's parties: Evelyn Waugh's 'Vile Bodies' become 'Bright Young Things' in Stephen Fry's successful adaptation.



Mute Music: Coma Lilies and Seeded Skies are lyrical enough without words.



Words, Words, Words: Sonoma County Book Fair celebrates the area's rich literary stew.



Crumbs of Knowledge: Ben Schott's 'Miscellany' has everything you never needed to know about food and drink.
Swirl 'n' Spit: Viansa Winery.



Lenny Lives!: New CDs spotlight Bruce's comedic genius.
Original Sins: Cinnabar's staging of 'Cabaret' transcends.



Please don't forget to write! The North Bay Bohemian welcomes letters commenting on our coverage or other topics of local interest. Please keep all letters at 300 words or less (we reserve the right to edit them for length and style) and sign them (unsigned letters will not be published). A local phone number must be included for verification. Postal: North Bay Bohemian Letters, 216 E Street, Santa Rosa, CA 95404. Fax: 707/527-1288. . Emailers, please include name, city of residence and phone number. Letters printed will list email address unless otherwise specified. Letters to the editor are not currently published in the online version of this paper.