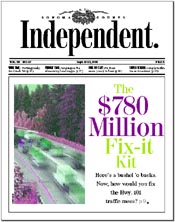 For the Week of
September 17-23, 1998
Cover: Morning Grind
Anyone forced to sit in the local commuter snarl on Highway 101 hopes that the proposed Calthorpe plan will fix the mess. Of course, some have their doubts. What would you do with a $780 million fix-it kit?
News: Synchronicity
Bill May just wants to compete like any other synchronized swimmer. But in the international arena, boys must 'keep out.'
Up to the Task?: See how your kids' school did in the state Standardized Testing and Reporting program.
Climbing Up on Capitol Hill: Check up on the your Congressional Representatives and U.S. Senators--where they stand, how they voted.



Sonoma County Hayride: Local bands hop on to the alt-country bandwagon.
God Squad: Crossover Christian rock with Jars of Clay.



Talking Pictures: Award-winning mystery novelist Julie Smith gets her first viewing of Orson Welles' seminal crime thriller Touch of Evil.
Poker Face: Matt Damon bluffs his way through the new buddy movie Rounders.
Victorian Secret: Film star Minnie Driver gets her first erotic role in The Governess.



Cheap Eats: Denny's. Lyons. IHOP. Why we love 'em!
Heard It Through the Grapevine: Get to the root of all things wine.



Hard Copy: The best of online erotica's Nerve.com hits the book stores.
War Stories: Red Star Sister offers wry view of the '60s.



Please don't forget to write! The Sonoma County Independent welcomes letters commenting on our coverage or other topics of local interest. Please keep all letters at 300 words or less (we reserve the right to edit them for length and style) and sign them (unsigned letters will not be published). A local phone number must be included for verification. Postal: Sonoma County Independent Letters, 540 Mendocino Ave., Santa Rosa, CA 95401. Fax: 707/527-1288. Email: [email protected]. Emailers, please include name, city of residence and phone number. Letters printed will list email address unless otherwise specified. Letters to the editor are not currently published in the online version of this paper.