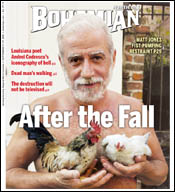 For the Week of
September 21-27, 2005
Cover Story: The Iconography of Hell and Our Guilt:
Eleven days into disaster, poet Andrei Codrescu reports.
Blank Screen: The Katrina devastation will not be televised.
Auto da Fé: Being too poor to drive means no exit.
News: Pool on a Hill:
Proposed reservoir dogs Woodacre residents.
The Byrne Report: P-Town Stink.
Briefs: Ad Mad.



Rev: Eco-Wheels: The future of cars today.



Critic's Picks: A guide to the week's best arts, theater and music events.



Dead On: For 'Corpse Bride,' Tim Burton gets accessible.



Let Them All Talk: Life in Braille's Matt Jones strikes back.
Unlikely Legend: Lisa Loeb is full of fun surprises.



Cult of TJ's: The blessings--and the curse--of Trader Joe's.
Swirl 'n' Spit: David Coffaro Vineyards.
News of the Food: Preparing to Prepare.
First Bite: Robato Grill and Sushi.



Wild and Wet: 'River's End' audaciously explores a famous mystery.



Please don't forget to write! The North Bay Bohemian welcomes letters commenting on our coverage or other topics of local interest. Please keep all letters at 300 words or less (we reserve the right to edit them for length and style) and sign them (unsigned letters will not be published). A local phone number must be included for verification. Postal: North Bay Bohemian Letters, 216 E Street, Santa Rosa, CA 95404. Fax: 707/527-1288. . Emailers, please include name, city of residence and phone number. Letters printed will list email address unless otherwise specified. Letters to the editor are not currently published in the online version of this paper.