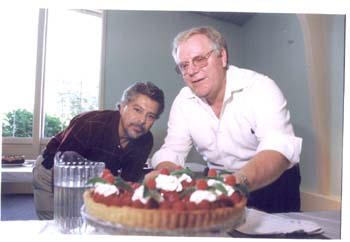 Photograph by Michael Amsler

Let them eat cake: Sure, it's a tough job, but Harvest Fair judges Anthony Bonviso and Ramon Canova gave it their all last week when they passed judgment on a torrent of tortes, a cavalcade of cakes, and a parade of pies.

A Sweet Job!

Judgment Day at the annual Harvest Fair

By Marina Wolf

A CRYSTALLINE HUSH presses up against the rafters in the Showcase Cafe, a high-ceilinged room tucked against the stands at the Sonoma County Fairgrounds. The tables hold more than 30 hopefuls from Dept. 120, Sections 31 through 34: professional food service, cakes and pastries. It's not as many as previous years--a couple of top contenders were previously engaged during the Harvest Fair season--but it's still a lot to the untrained eye and stomach.

And the judges are only on the second slice of the day.

They're not supposed to talk in the assessment period before medals are designated in each section, but Ramon Canova, a confectionery importer and former pastry chef, can't restrain himself as he cuts through the top layer of the second of two wedding cakes. "Now that cuts very well," he murmurs appreciatively as he removes a clean section of cake. "That's real smooth."

It's this level of focus, among other things, that separates the mere enthusiasts who visit the Harvest Fair (scheduled this year for Oct. 1-3) from the truly professional judges who descend on the fairgrounds before the fair every year to render their assessments on everything from olive oil to hors d'oeuvres. Judging coordinator Anne Vercelli has been selecting judges for the Harvest Fair professional categories for around 15 years, and her choices for this year's cakes and pastry panel are inspired: Canova is joined by Anthony Bonviso, the owner of Gotta Havit gelati and sorbets, and Otto Edward Eckstein, a mild-mannered German pastry chef with smooth silvery-gray hair and the slight stoop of a man who has been bending over a counter for decades.

Together the three men face the task of assigning medal designations--gold, silver, or bronze--to each item on the tables. The Danish system of judging assigns medal levels according to individual merit, as opposed to the American system, in which the entries are judged against one another. It lends a kind of egalitarian feel to the proceedings.

This is, after all, the Harvest Fair, and not the cutthroat, rough-and-tumble international salon culinaire.

"I enter with my professional standards; then I temper them with the notion of commercial viability," says Canova when asked about how he judges the Harvest Fair entrants. "Because these are small businesses."

"And you gotta have your finger on the reality of doing business," interjects Bonviso.

AT TIMES the tasting resembles a wine event of the most refined order. The three judges select and taste different parts of the entry, separately and together in one mouthful. They sniff slightly at their forks before taking the first tentative nibble. The second bite is larger, and is rolled around in the mouth while the taster's eyes glaze over like a good fruit tart.

At other times the tasting really reveals the science behind baking. The judges peer at the samples of cake, tortes, and cheesecakes as scientists might examine a stratum of soil sample. A period of discussion follows the medal assignments for each category, at which time the judges have a chance to state their responses and revise their votes upward or downward.

This is when the topics get a little esoteric, if not to say almost metaphysical. A piece of apple pie emerges slightly crumbly from the dish, eliciting a brief but intense post-medal debate of how well the starch was blended in with the apples; a second piece cut demonstrates that in fact the binding starch was blended unevenly, a small but significant point for this crew.

A novice judge might be inclined to fill in a chart for each entry based on the chart in the professional guidebook--appearance, 30 percent; texture, 35 percent; flavor, 35 percent--but these men make some of their assessments almost immediately. As with Eckstein and the pear tart. Eckstein approaches the rectangular pastry carefully and inspects it with narrowed eyes.

"What is it?" asks Bonviso, coming up to the table after refilling his water glass.

"It's a bordeloue, a classic French tart," says Eckstein as he grasps the end of the pastry with a firm hand and cuts away three pieces. "Someone has received some very good training in pastries." He gazes at his piece for a few seconds, and then forks a careful piece into his mouth. His face, which has been solemn through much of the proceedings, relaxes into a small smile.

"It's perfect."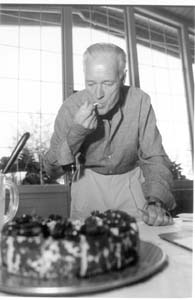 On duty: Harvest Fair judge Otto Edward Eckstein.
Photograph by Michael Amsler

A LATER ENTRY calls up almost the opposite response, getting an immediate, forceful bronze from all three judges. The post-medal discussion for this less-than-winning number touches on the unappealing texture and an artificial liqueur flavoring that hits heavily and lingers long. Theoretically, this entry could be passed over without receiving any medal at all.
But the judges concur that a no-medal response would be for something truly awful, not at all worthy of a professional kitchen. And this dessert, while not golden, isn't a leaden loser, either.
"There are going to be some people somewhere who like that flavor," admits Bonviso. "People have put in a fair amount of time and energy to get their things here, and I don't want to discredit that."
By the end of the afternoon, the tables are cluttered with crumpled napkins, half-eaten slices, and well-used forks. The judges are getting a little punchy, maybe from the sugar--they haven't been spitting--or from the glasses of crisp, Harvest Fair­label sauvignon blanc that they are gratefully clutching as they mill near the gold table, from which one item will be chosen for best of show. "We don't have to eat any more, do we?" asks Ramon.
"Oh, no, sir," says Vercelli as she passes out the ballots, pieces of orange card stock. "Just take a walk down memory lane." The walk is short, and the vote is quick and unanimous: No. 186. The bordeloue, the perfect pear tart, wins the day.
Finally the tags beside the top runners can be dropped. Petaluma's 21st Century Pastry sweeps the top ranks, with five entries taking the gold. Master Piece Cakes and Pearson & Co., both of Santa Rosa, check in with one gold entry apiece. And the best-of-show winner, the pear tart made with local organic pears poached in Mark West chardonnay, came out of the pastry kitchen at Equus in the Fountain Grove Hotel in Santa Rosa.
Meanwhile, the other entries are getting sliced up for Harvest Fair office workers and a few lucky visitors at the nearby Home and Garden Show. In the cool dim light of the cafe, the pieces of silver- and bronze-winning cake look a little disappointed to have let down their creators. But as Bonviso said at the very beginning of the day, "Everyone thinks they're a gold. But not everybody is. That's just the way life is."
---
The medal winners from the cakes, pastries, and other professional food and wine categories will be served to the lucky attendees of the Harvest Fair Awards Night on Saturday, Sept. 25. The rest of us must be content with the Harvest Fair itself, which is a damned fine thing, anyway, with food, wine, art, crafts, animals, entertainment, and all the best that Sonoma County has to offer at summer's end.

The Harvest Fair is open on Friday, Oct. 1, from 10 a.m. to 8 p.m.; on Saturday and Sunday, Oct. 2 and 3, from 10 a.m. to 7 p.m. Sonoma County Fairgrounds, 1350 Bennett Valley Road, Santa Rosa. Tickets are $5/general, $2/children 7 to 12, $2/seniors on Friday only, and free to children 6 and under. For details, call 545-4203.
---
[ Sonoma County | MetroActive Central | Archives ]