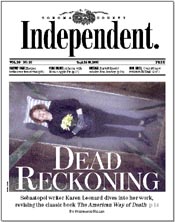 For the Week of
September 24-30, 1998
Cover: Dead to Rites
Local author Karen Leonard revises an investigative reporting classic.
News: Green on Green
Local enviros battle for hearts and minds and wallets of voters.
Bombs Away: Anti-nuke crusader Helen Caldicott tackles the Big One.
Lost in Cyberspace: Henry Hyde's lost weekend. Hacking for Girlies. And other misadventures. Monicagate hot wires the Internet.
The Scoop: The Starr Report--too much distraction.
Up to the Task?: See how your kids' school did in the state Standardized Testing and Reporting program.
Climbing Up on Capitol Hill: Check up on the your Congressional Representatives and U.S. Senators--where they stand, how they voted.



Biblical Proportions: Reduced Shakespeare Company downsizes the Bible.
Stage Master: Playwright and critic Eric Bentley comes to Sonoma State.
Little Girl Lost: Kindertransport tells story of a Holocaust survivor's guilt.



Mo' Blues: Bluesman Keb' Mo' scores a hit.
Spins: A box full of psychedelic nuggets, and more.
Audiophile: Reviews of the latest CDs by Option.FM, the Murmurs and Outgrabe.
Rising Tide: Singer/songwriter Elliot Smith lives up to the hype on XO.



Talking Pictures: David Templeton inadvertently sparks a moral crisis for esteemed British author Marianne Wiggins when he invites her to see the controversial film Simon Birch.
Spoiled Pi: Edgy film thriller Pi is all style, no content.
Mythic Romance: Bigas Luna's The Chambermaid takes a reverse-angle view of popular Titanic story.



Spice Girl: In praise of Mom's Apple Pies.
Heard It Through the Grapevine: Get to the root of all things wine.



Please don't forget to write! The Sonoma County Independent welcomes letters commenting on our coverage or other topics of local interest. Please keep all letters at 300 words or less (we reserve the right to edit them for length and style) and sign them (unsigned letters will not be published). A local phone number must be included for verification. Postal: Sonoma County Independent Letters, 540 Mendocino Ave., Santa Rosa, CA 95401. Fax: 707/527-1288. Email: [email protected]. Emailers, please include name, city of residence and phone number. Letters printed will list email address unless otherwise specified. Letters to the editor are not currently published in the online version of this paper.