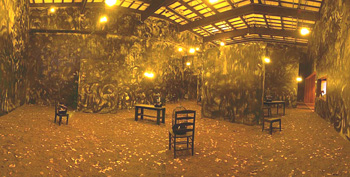 Shadows of Perception: In Seyed Alavi's installation at the University Art Gallery, words bring light.

Visual Poetry

Iranian artist Seyed Alavi illuminates language at SSU

By Gretchen Giles
---
This narrow cage,
surely is not meant for a song bird like me.
My home is an enchanted green,
to that garden I shall flee.
--Hafez
---
From the outside, it appears that the University Art Gallery at Sonoma State University is perhaps undergoing a spate of remodeling. The glass is completely covered with thick, light-defying paper, and the doors, which would normally be open to welcome the Indian summer air, are both firmly closed. But step inside the unlocked entry and the refusal of light and air suddenly makes the eeriest kind of sense.
Inside the entire gallery space, the only illumination comes from the neon twists of cursive-wrought individual words hanging face-down eight to 10 feet from the ground, which itself is completely covered with an inch of fresh, thick, dry dirt and scattered leaves. The electric words, taken from the Hafez poem printed above, may only be parsed by standing directly beneath them staring straight up, and their wild diction only randomly surmised as one wanders from one singular piece of deconstructed text to the next.
In each of the two blackened gallery spaces, whose walls are entirely spun with hand-smeared swirls and long, thin drips of Sumi-e ink, are a few casual scatterings of black tables and chairs. And upon this furniture just as randomly sit nine black wire cages, each housing its own live, brilliantly yellow canary. The sound is spectacular, as the birds trill thrillingly, catching up each other's songs and then falling swiftly silent upon a visitor's approach.
But sit quietly on one of the hard chairs in the eerie acoustics of this artificial cave and the birds soon forgive and begin their thin, sweet sound again, singing to each other unseen from room to room with the pleasure of calling a mate who is also trapped, as am I, as are you, as are we all.
Titled "Renunciation: A Requiem," this installation by Iranian-born conceptual artist Seyed Alavi, showing through Oct. 19, encourages the visitor to consider nothing less than the false security of existence--because, after all, what can we be absolutely certain constitutes true and full freedom? While the birds are clearly caged, a brief glimpse at the gallery's wire-crossed ceiling reveals no less a prison.
Yet surely the visitor can exit at will, stepping back out into that fresh Indian summer air, and be free. Furthermore, a conscious individual visiting this installation can surely understand with rational thought what is being shown within it, because seeing, surely, is believing. Surely.
Yet what Alavi has also just as surely wrought is a version of Plato's cave, in which perception isn't an assured marker of reality, and freedom is just a construct created both collectively and individually with differing boundaries--all of which are, in fact, quite firmly bound.
Speaking by phone from his Oakland home, Alavi kindly explains that he "hate[s] to present that it is like a puzzle, because it's not at all like a puzzle. My hope is that I'm presenting a poem or a koan. Because I myself am not completely aware. I'm not presenting an answer; I'm presenting a possibility. This is my understanding of the phenomenon that's represented by the poem. And my understanding is that in the case of the canaries, it's the matter of the cage. They are there and they're being fed, so there's a little level of comfort, but they're not free.
"And here we are sitting, looking at the shadows. There is a known factor, and we feel OK about it. There might be," he chuckles dramatically, "a lion out there for all I know! It's a dark installation, both physically and metaphorically. But I'm inside the cave, too. It's a sad thing, but inside it's comfortable. It's warm and womblike and comforting but nevertheless . . . ." He trails off reflectively.
Alavi, 44, left his home in Iran as a student, immigrating to attend San Jose State University. He received his MFA from the San Francisco Art Institute, where he is now an instructor, and his large conceptual work invariably springs as much from the site where his work will be housed as from wordplay. He avers that he doesn't know what he'll do in a particular space until he's visited it. "It doesn't dictate the concept and I don't come with a concept, but it definitely influences what happens," he says. "I don't consciously have anything in mind. I go to the space and I begin a dialogue."
In past installations, Alavi's dialogue has included carving the rapturous words of a 14th-century mystical poet into a wooden table and overflowing the incised letters with honey. He has placed mirrored poems into a pool, their meaning obscured by random water dropped from the ceiling when a motion detector sensed a visitor; he's used the language of saints from different faiths to examine their sameness; and he's lettered the mellifluous Farsi of his homeland onto walls and even Post-It notes to express the broad, shuddering grasp of desire, embrace, and enduring love. Why is language such a huge force in his art?
"It's a very vast thing for me," he replies in his excellent English. "One perspective is that I look at language as just another medium such as paint and clay and bronze and glass. From an art-history perspective, artists from the late 19th century or even earlier have used texts in their work. It's semifamiliar to the audience. From another perspective, I think that language is a very democratic medium of communication, and a slight part of my interest is to make my artwork accessible to the larger public. It's a very familiar medium [that] bridges the gap between artists and the public. . . . [I like to use] materials that are approachable and familiar--in this instance, dirt and leaves and canaries.
"Another perspective," Alavi continues, "is my upbringing, in that I was born and raised in Iran and left when I was 17, so a good deal of my childhood and upbringing were influenced by that culture, and in that culture, text is definitely a part of the everyday context. Language is everywhere, from the architecture to the dishes to clothes to vases for flowers--text basically surrounds the culture. And I could also think that being bilingual, I'm very conscious of language and both its power and its limitations for communicating ideas and concepts. I'm fascinated by that."
Alavi has worked extensively with teenage artists, using the communication tools of graffiti and comic books to help the youths express their own democratic yearnings to make a mark on society, quite literally by adorning East Bay freeway underpasses and creating the thought-balloon cartoons painted on walls in San Francisco streets. And while he is dedicated to making his work as populist as possible, his private aspirations remain concerned with achieving the egoless state of the mystical experience.
"I am hoping that the work can stand for itself and by itself without . . . for example, me introducing mysticism or a particular branch [of spirituality] that might alienate a part of the public," he explains. "Through utilizing formal constructs, I would prefer it that way. Having said that, my own personal interest is the same as the scientists are concerned with, that the philosophers are concerned with. I haven't been able to answer the simple questions of my life: who am I and why am I here? That's what concerns me, and interests me and," he finishes simply, "I can't see anything more important than that."
And with "Renunciation," Alavi has created an astounding space for such reflection.
---
'Renunciation: A Requiem' continues through Oct. 19 at the University Art Gallery, SSU, 1801 E. Cotati Ave., Rohnert Park. Gallery hours are Tuesday-Friday, 11am-4pm; Saturday-Sunday, noon-4pm. Admission is free. 707.664.2295.
---
[ North Bay | Metroactive Central | Archives ]