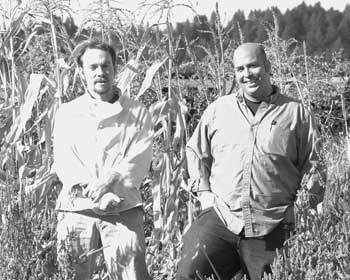 Photograph by Glen Graves

Outstanding in Their Field: Kenny Lowe (left) and Jeremy Townsend at Love Farm.


Source and Intention

How love, honor, passion and charity make for a damned fine meal

By Gretchen Giles

What's not remarkable about Jeremy Townsend and Kenny Lowe is that they're giving up two and a half days this week to prep, set up and cook for charity. That's just fun; that's not remarkable.

It's not remarkable, for instance, because these two young men both hail from the South. Townsend went to school about an hour away from New Orleans, and as a child, Lowe lived through Hurricane Hugo. "Katrina made Hugo look like a thunderstorm," Lowe says by phone from his Healdsburg home. In order to aid those affected by the recent hurricanes, the men are throwing a lusciously named five-course "supperparty" benefit at Ron Love's farm in Healdsburg on Oct. 8. The food will, in large part, come directly from Love's fields, and every dime of the $80 per-person price not associated with costs will benefit the relief effort.

This is but a diversion for such energetic men. Lowe is a professionally trained chef who's worked both sides of the house at the French Laundry and had a long stint at the famed Magnolia's restaurant in Charleston, S.C. He is, of course, also a web designer, graphic designer and special-effects designer with a computer science degree who naturally spends his days working at Healdsburg's Thumbprint Cellars.

For his part, Townsend has his masters degree in 20th-century literature, is a published poet, teaches writing, substitute teaches high school students, is a comedy writer, runs an entertainment business and hosts an underground restaurant, the Ghetto Gourmet, with Lowe every Monday night in his Oakland apartment. Townsend's brother Joe, a professional chef, started the Ghetto Gourmet from their home kitchen, and when he left town, Jeremy just kept doing it. Having met at an ad agency where Lowe designed and Townsend wrote copy, Townsend asked Lowe to help him out at his surprisingly popular home restaurant once his brother left. Some 20 to 40 hungry people show up each Monday night, wondering what's for dinner.

Their new venture, the Curious Fork, is an outgrowth of the Ghetto fixin's of Townsend's living room. This time, their aim is slightly higher than feeding affable strangers and having a great reason to get the apartment cleaned up each week. Devoted to bringing attention to the "source and intention" of food production, the two mean to unite winemakers, guests, farmers, foodies, servers and chefs in unique ways intended to highlight the shared humanity of the table. Future plans include working with San Francisco's Episcopal Community Services to transition the homeless and those in addiction recovery out of halfway and into the kitchen and to mentor foster kids who "age out" of the system through culinary apprenticeship.

It seems that, when examined with exuberance, wit and grace, food can be a huge canvas upon which to work.

"After the hurricane, we were talking about what we could do to do something," Lowe says. "It just hit us, not only for hurricane work but for other nonprofits. Jeremy has ideas about doing things for kids, and I used to be a youth service mentor. How could we take this thing that we do and do it for the greater good?"

The men plan a monthly series of supperparties to benefit the efforts of Habitat for Humanity, the Alliance Medical Center in Healdsburg, the SPCA and other worthy organizations. "We want to see how big it can get and how much we could do for these charities," Lowe says.

In keeping with their underlying "source and intention" theme, the two met last weekend with Ron Love to see what's fresh to pick on the farm. The resulting menu is tentatively set to feature double-cut pork chops with grits cakes and sage gravy, fresh greens, a red pepper coulis with mascarpone bruschetta, fried chèvre balls, an organic green salad, watermelon sorbet as amuse-bouche and Lowe's famous ancho chili chocolate cake. Indeed.

Thumbprint Cellars is donating its organic Sauvignon Blanc, and one of the groups Townsend manages, the Brownbums Blues Trio, is driving up to provide the music. The all-inclusive price includes beverages, entertainment, tip, the dinner—everything. Which makes it more of a party than an impromptu restaurant, right?

"I wouldn't really say that it's not illegal," Lowe says carefully, noting that he is National Restaurant Association safety- and sanitation-certified. "The health department's not interested in shutting folks down; they're interested in the safety of the public. If you're not a restaurant, in theory, you're not governed by the rules that keep people safe. But the people who do this sort of stuff are more passionate and don't want to hurt anybody.

"Basically, it's a bunch of people pitching in on a private chef. It's not as clandestine as it sounds."

While Townsend's brother Joe left the Bay Area for the South to work on a cookbook with their grandmother, Lowe learned to cook from his. "My grandmother was very passionate about food; most of what I learned to cook came right out of her garden," he says, giving a short laugh, "and that just comes out of being poor. But we've been desensitized. Here's this food that's always there and you just sort of think about it as, 'Wow, I'm hungry.' A lot of people don't think about the prep and what goes into it."

Lowe put himself through college working in restaurants, determined not to be stuck in the kitchen if he didn't want to be. Now with a degree, a varied skill set and the ability to fit seamlessly into the corporate world, he is delighted that he doesn't need to. Working with a partner he respects and realizing that the whole world is available for him to give to and receive from, Lowe's vision is wide. "My dream in life for a long time was to own a restaurant," he says.

"But this is so much more fun."
---
The Curious Fork supperparty is slated for Saturday, Oct. 8, from 4pm. Love Farm, 15069 Grove St., Healdsburg. $80. 510.830.9035.

[ North Bay | Metroactive Central | Archives ]