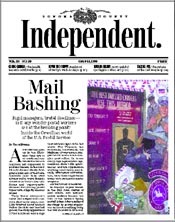 For the Week of
October 8-14, 1998
Cover: Going Postal
Inside the Orwellian world of the U.S. Postal Service.
News: El Norte
Richard Rodriguez on the health hazards of immigration.
The Bong and the Rifle: Not all stoners are passive in their loathing about the War on Drugs. The pot-loving Green Panthers are preparing for armed struggle--and the possibility of a seperate stoner nation.
Scoop: How your zipper may soon cause cancer.
Up to the Task?: See how your kids' school did in the state Standardized Testing and Reporting program.
Climbing Up on Capitol Hill: Check up on the your Congressional Representatives and U.S. Senators--where they stand, how they voted.



Tropical Turmoil: SoFo2 Gallery breaks barriers with new Cuban art exhibit.
Small World: Exhibits showcase art in the miniature.
Name Change: The California Museum of Art will be baptized anew.
Slavery Daze: Not everyone is amused by UPN's new sitcom The Diary of Desmond Pfeiffer.



Spins: New CDs showcase classic rock, bluegrass.
Beyond Bollywood: Britain's Asian dub masters ride a new wave of trip-hop.
Jagged Pill: Gina Arnold on the return of Alanis Morissette.



Catfight: Author Barry Lopez gets passionately angry about Passion in the Desert.
Talking Pictures: Author Gus Lee sounds off about A Soldier's Daughter.
Wonderful 'Wonderland': Indie film Next Stop: Wonderland--a thinking person's date flick.



Fish Tale: Betty's Fish & Chips is a welcome catch.
Heard It Through the Grapevine: Get to the root of all things wine.



Please don't forget to write! The Sonoma County Independent welcomes letters commenting on our coverage or other topics of local interest. Please keep all letters at 300 words or less (we reserve the right to edit them for length and style) and sign them (unsigned letters will not be published). A local phone number must be included for verification. Postal: Sonoma County Independent Letters, 540 Mendocino Ave., Santa Rosa, CA 95401. Fax: 707/527-1288. Email: [email protected]. Emailers, please include name, city of residence and phone number. Letters printed will list email address unless otherwise specified. Letters to the editor are not currently published in the online version of this paper.