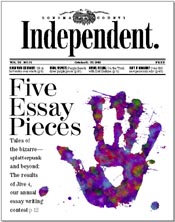 For the Week of
October 15-21, 1998
Cover: Five Essay Pieces
Tales of the bizarre--splatterpunk and beyond--are the results of Jive 4, our annual essay-writing contest.
News: Rail Thin
How much rail service can you buy for $175 million?
Addicted to Love: The downside of cybersex is a hot issue.
Up to the Task?: See how your kids' school did in the state Standardized Testing and Reporting program.
Climbing Up on Capitol Hill: Check up on the your Congressional Representatives and U.S. Senators--where they stand, how they voted.



Fright Night: Turn of the Screw delivers campy chills.



Talking Pictures: Author Bruce Barcott crosses heaven and hell to discuss What Dreams May Come.
Father Figure: Author Gus Lee sounds off about A Soldier's Daughter.
Dead Wrong: Flawed What Dreams May Come is a film in search of an afterlife.
World Beat: Director Iara Lee goes back to the future with rave flick Modulations.
Mused and Abused: Love Is the Devil paints a lurid picture of Francis Bacon's affair.



World Class: LaSalette chef blends Old World flavors.
Heard It Through the Grapevine: Get to the root of all things wine.



Punjabi Pop: East meets West--catching up with Britain's accelerating Asian indies.
Soul Diva-lution: Fuel shines a spotlight on the new breed of female soul singers.



Alien Nation: Dreamland explores the heart of the UFO mythology in Roswell and Area 51.



Please don't forget to write! The Sonoma County Independent welcomes letters commenting on our coverage or other topics of local interest. Please keep all letters at 300 words or less (we reserve the right to edit them for length and style) and sign them (unsigned letters will not be published). A local phone number must be included for verification. Postal: Sonoma County Independent Letters, 540 Mendocino Ave., Santa Rosa, CA 95401. Fax: 707/527-1288. Email: [email protected]. Emailers, please include name, city of residence and phone number. Letters printed will list email address unless otherwise specified. Letters to the editor are not currently published in the online version of this paper.