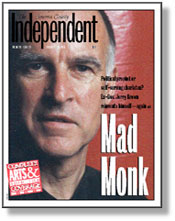 For the Week of
October 17-23
Cover: Mad Monk
In 1992, ex-Gov. Jerry Brown fought for the right to be heard at the presidential debates. In 1996, he's eschewed the trappings of candidacy to become the last angry man, the lone voice of reason howling in the political wilderness.



Talking Pictures: Forensic expert Sarah Lovett on violent voyeurism in the classy medical thriller 'Extreme Measures.'



Waiting for Hamlet: Rosencrantz and Guildenstern come back to life in SSU production.



Small Wonder: California Museum of Art's 8th annual 'Small Works' show is really big.



Gimme That Wine: Which quaff best suits the humdrum everydayness of a winedrinker's existence? Be it pre-packaged or bright orange, there is a wine to suit.